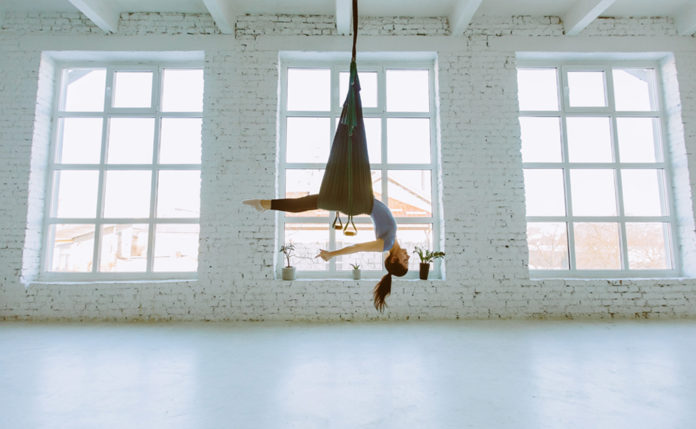 Aerial yoga has always been sought after by many girls, in mid-air use of hammocks or hanging cloth to put out beautiful yoga movements, not only help to forge the body's softness, balance, the use of aerial yoga weight loss is also the reason for many girls to pursue. Air yoga beginners should pay attention to more things, the pursuit of beauty and weight loss will easily lead to injury, the following integration of simple aerial yoga introduction and precautions, a search for the most effective way to lose weight!

Aerial yoga must be known for the first time.
Aerial Yoga is anti-gravity yoga, in which practitioners use hammock fabrics for a variety of yoga positions, with high physical exertion, high softness required, and balance. Even in the air yoga beginners are not difficult to start, the action will be from shallow into the depth, later there will be upside down, flip and other difficult movements.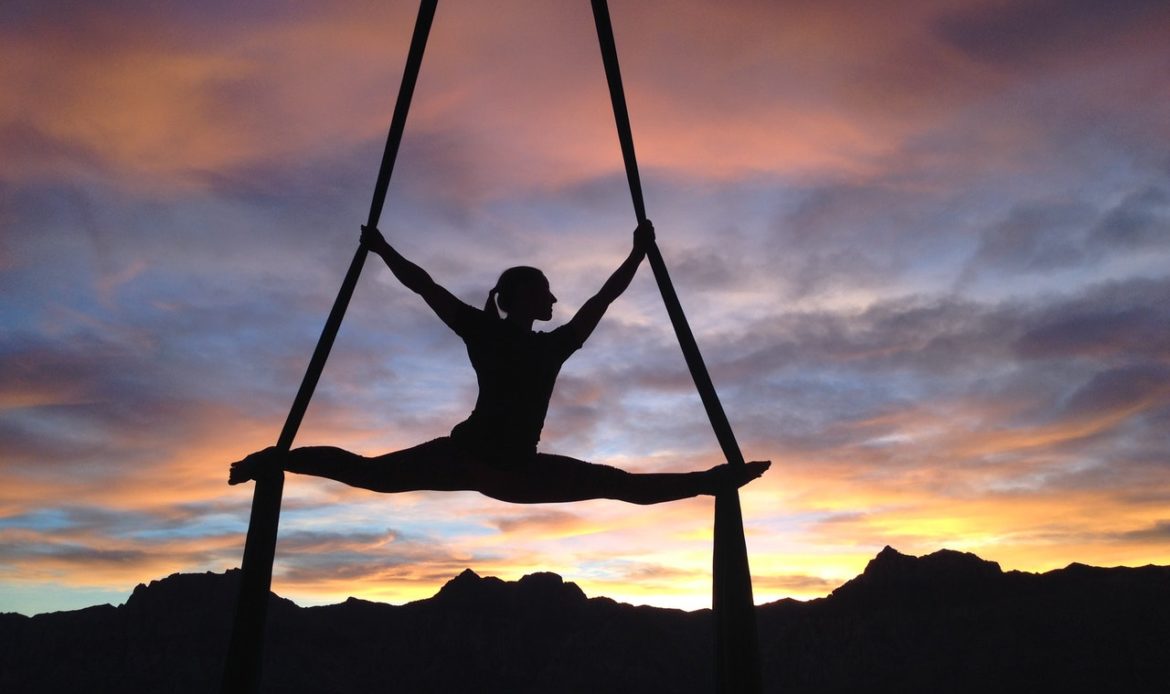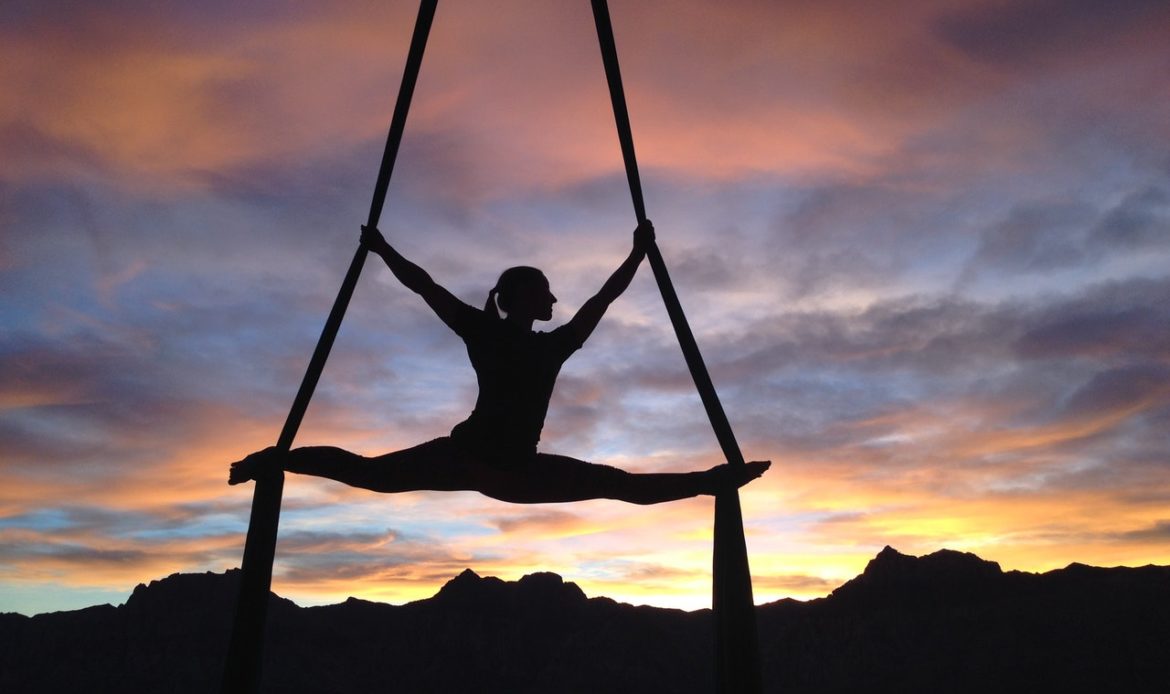 —
Lazy must read▶▶ do sports for half an hour to repair! Yoga, playing, meditation, home sound!
—

Introduction to aerial yoga: The benefits of practicing aerial yoga.
Helps to forge body softness and balance.
Air yoga benefits a lot, but there is also a certain, let's first look at the introduction of aerial yoga!

Aerial yoga has a lot of movements need a lot of hamstrings and balance, practitioners can only rely on one can carry 900 kg (how fat can participate in air yoga!) The hammock to make different aerial yoga tricks, balance will also be relatively improved, while yoga itself requires practitioners to make a lot of soft action, want to make the body softer people must play!

Aerial yoga to lose weight.
Air Yoga is more effective at consuming fat than ground yoga, and three 50-minutes of aerial yoga a week can lose an average of 2.5 pounds, minus 1 inch and 2 percent body fat over six weeks, according to the American Sports Association Institute. Most of the movement also need to use muscle strength test to maintain a sense of balance, and the use of hammocks and other can be forged to more ground yoga can not touch the area, especially the groin and underarm lymphatic area, more practice to help detox, so the effect of aerial yoga weight loss is relatively significant.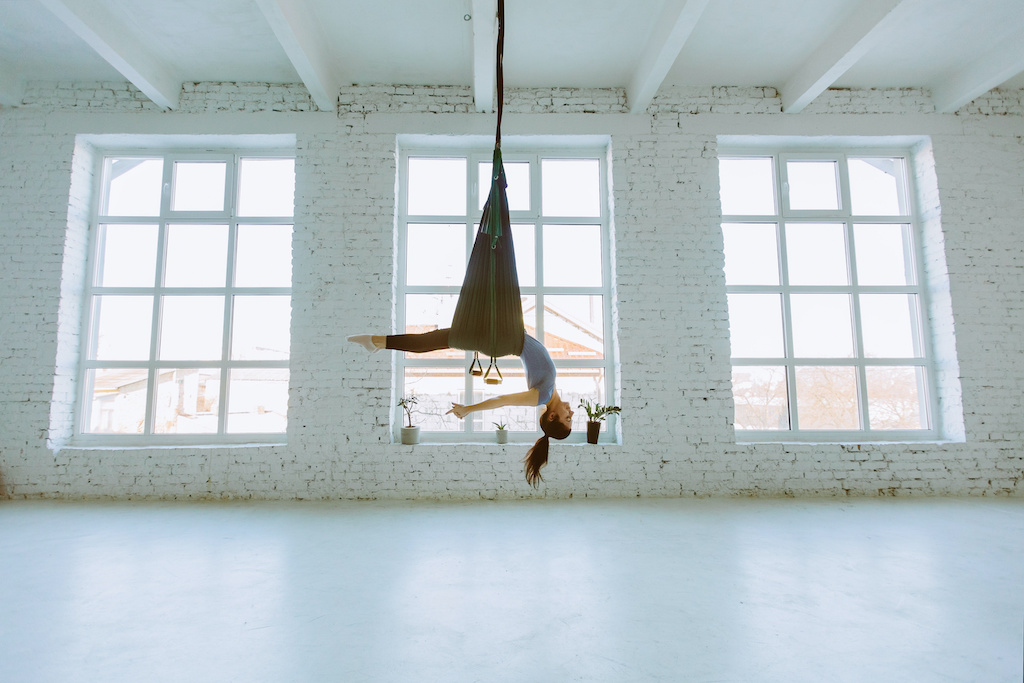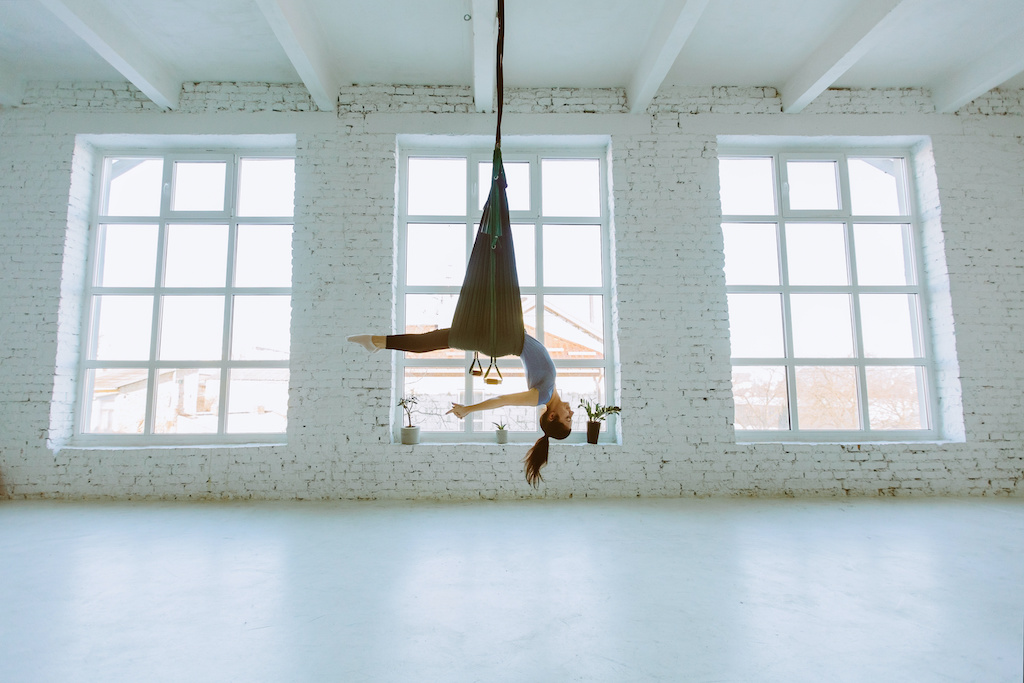 Improves body shape and stretches the spine.
Modern people because of long-term lying, incorrect posture led to scoliosis, cervical fatigue, shoulder aching and other problems, aerial yoga using suspension and other physiotherapy methods, the use of their own gravity to stretch the spine, correct posture;

Precautions for the beginning of yoga in the air.
Don't rush too fast.
Air yoga beginners may feel powerless, and want to put a variety of beautiful postures in the air to punch and force the challenge of difficult movements;

Wear appropriate clothing.
Although it is more comfortable to wear loose clothing for exercise, but the air yoga will use hammocks in the air to pose a variety of postures, or even upside down or flipping movements, loose clothing will hinder the completion of the movement, air yoga no newbies are best to wear close-up and not easy to walk naked clothing.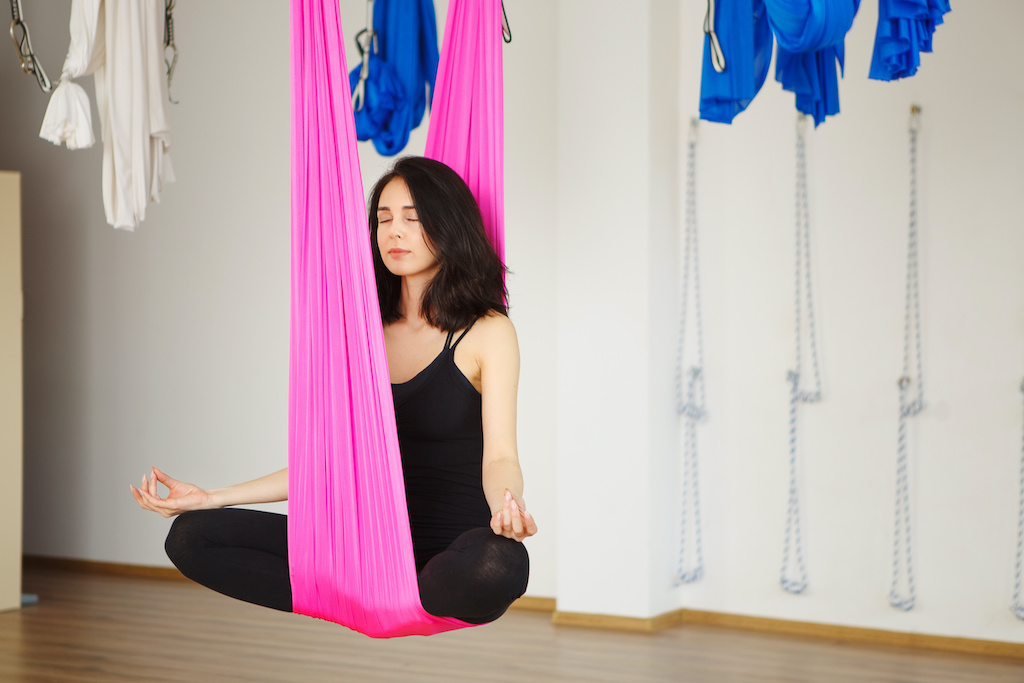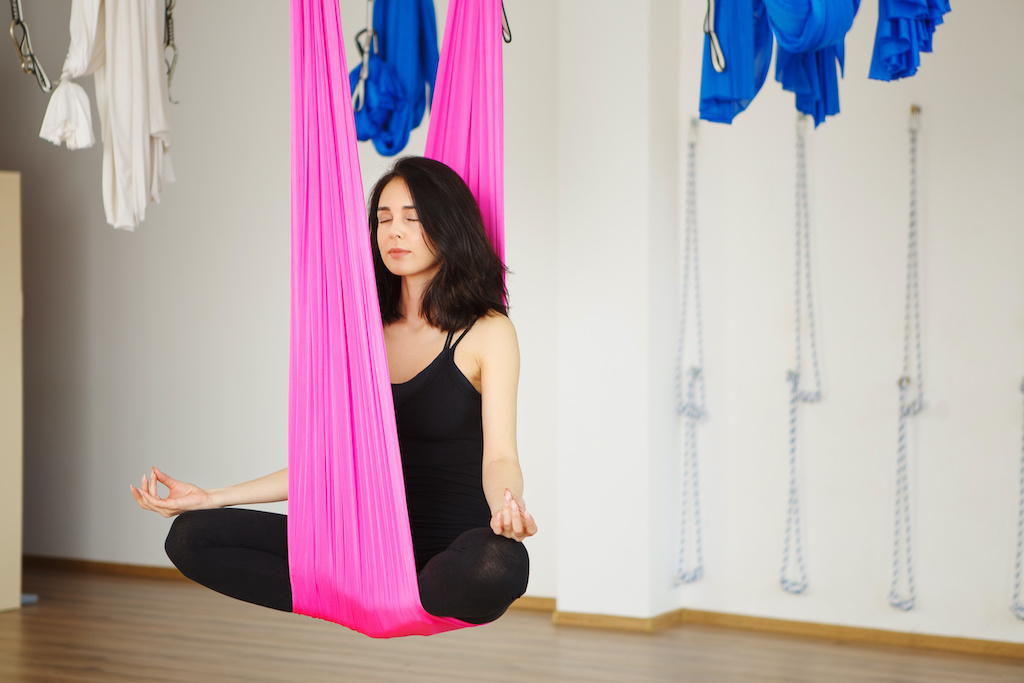 A freshman aerial yoga trick at a glance.
Do you think it's right for you after watching the introduction of yoga in the air? Next you can take a deeper look at the different aerial yoga tricks. Because aerial yoga is more difficult to practice at home, it is recommended that aerial yoga nobids to the fitness center test hall before deciding whether to continue practicing, the following are some simpler aerial yoga tricks, nods must!

Aerial Yoga Beginner 01 – One-legged foot-climbing.
The practitioner first places his right leg in the hammock, uses his left leg to stabilize the center of gravity, his right leg uses the hammock to borrow force, his body leans forward, and his legs are in a straight line. This action effectively pulls the inside of the thigh and the outside of the calf to train balance and leg muscles.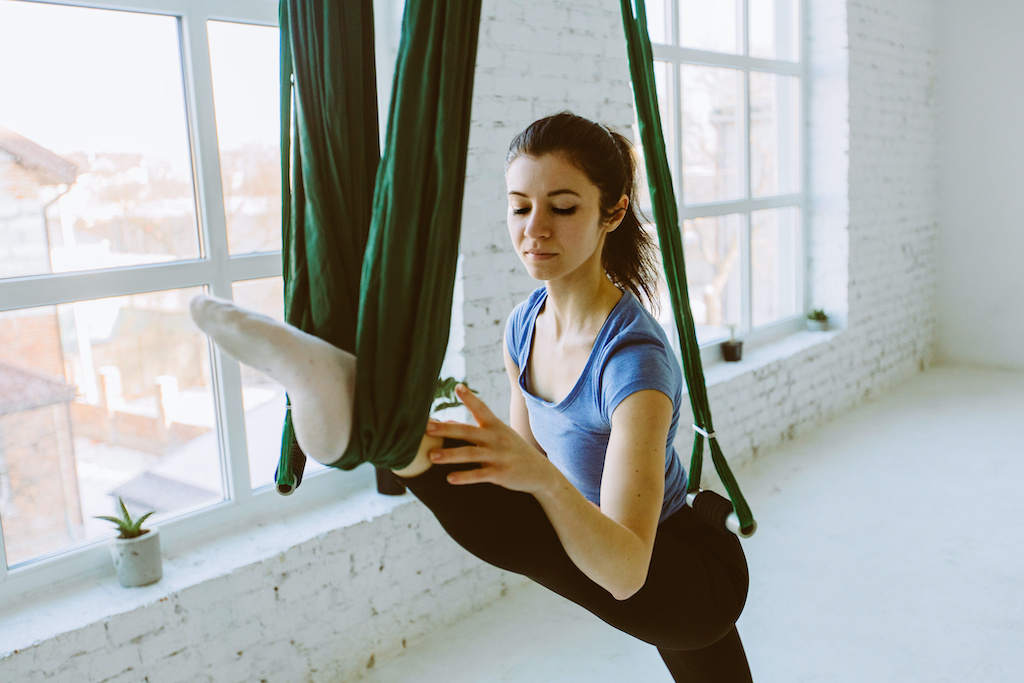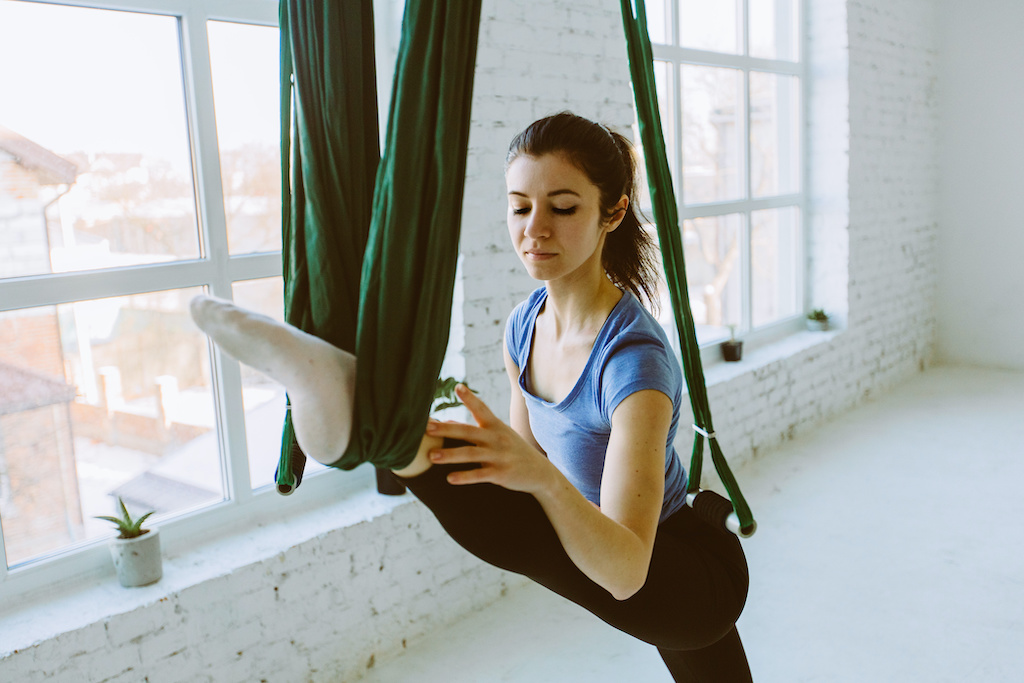 Aerial Yoga Beginner 02 – Bend back and turn.
Aerial yoga practitioners first stand side by side with their legs, then bend back, with their backs close to the hammock, their hands straight behind them, and their bodies completely relaxed on top of the hammock. This action effectively pulls the back muscles, improves the standing posture, and also uses the muscles such as the head.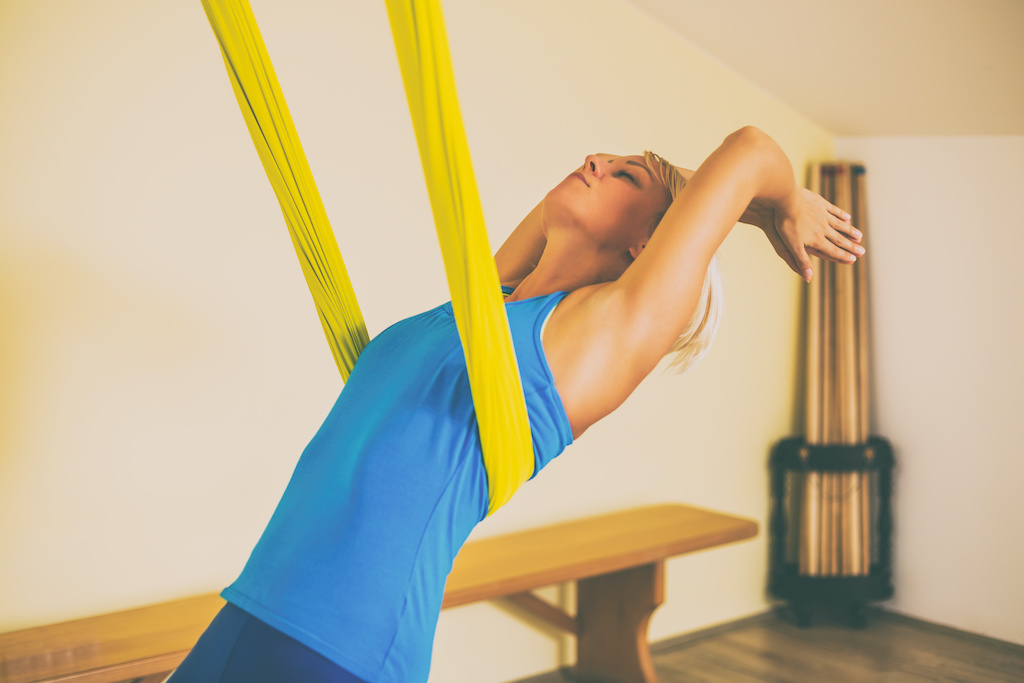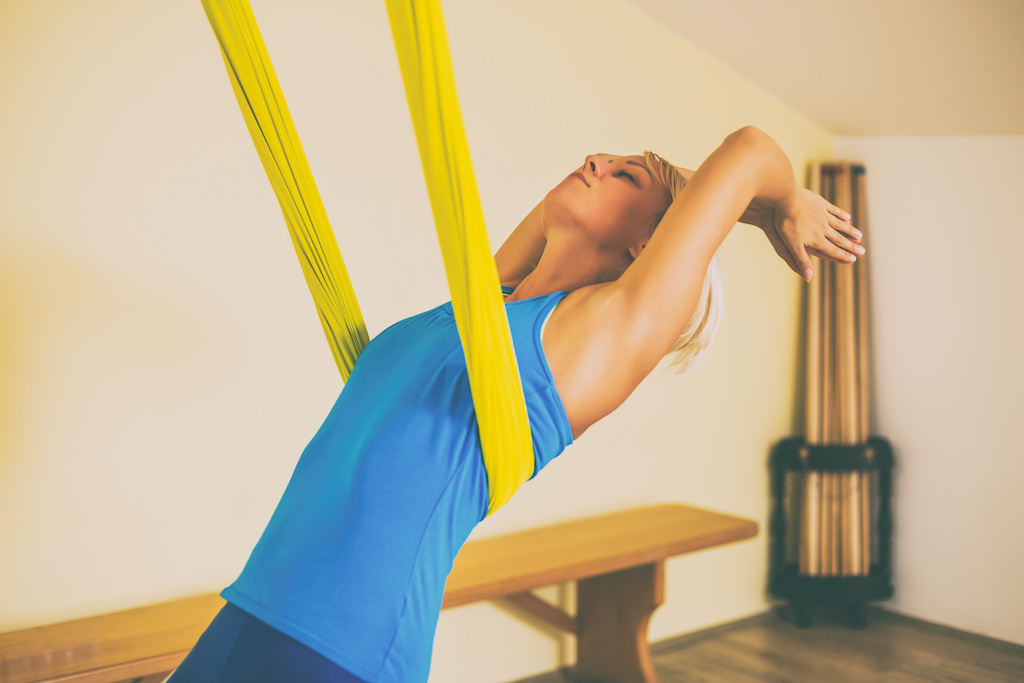 Would you like to try it now if you read the whole introduction to yoga in the air? The above basic aerial yoga style seems simple but it is not easy to do Oh, just remember to do aerial yoga practice, must be accompanied by a coach or mentor, all exercises should be safety first!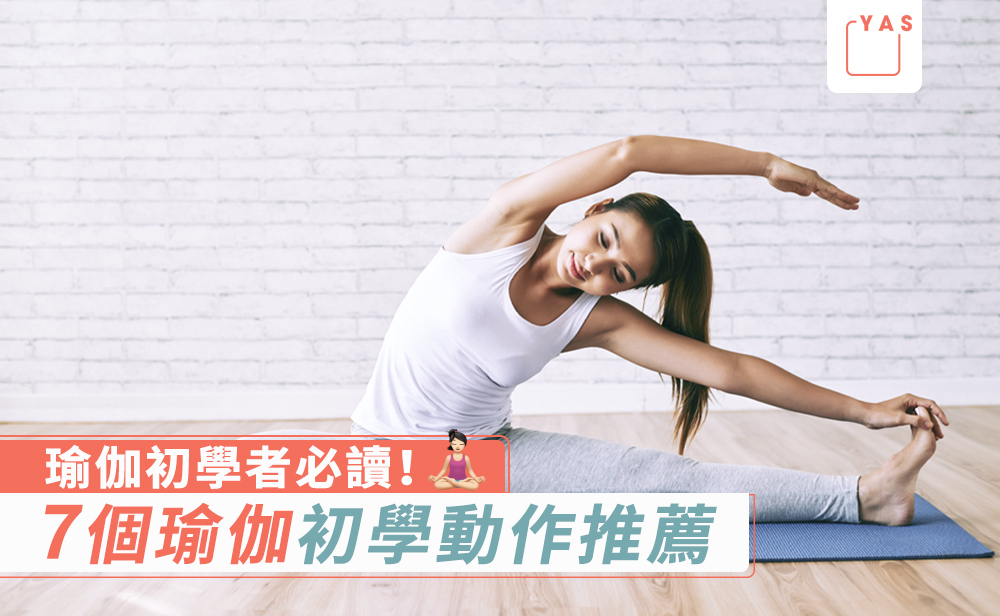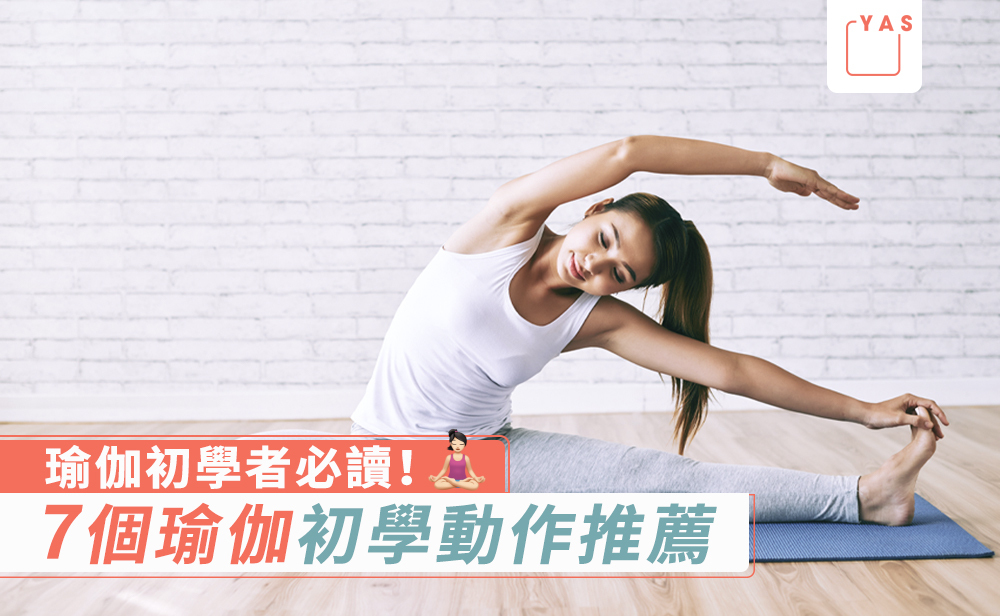 Latest Update