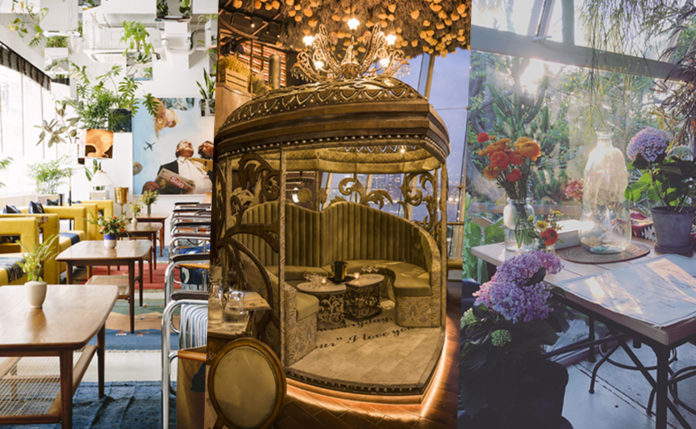 There are numerous taste restaurants in Hong Kong, ranging from tiny freshness and elegant art youth, French romantic, retro and elegant to the open air and natural wind, most suitable for couples or for good girlfriends to chat, snack and share happiness via IG. The editor of YAS is most fond of Hong Kong restaurants. This time I have carefully selected the most instagrammable restaurants in Hong Kong for you. While treating your taste buds well, it will also give your eyes a healing journey.
Retro Romance | Central IFC | Dear Lilly
As if walking into the palace gardens of Paris
French romance can also be enjoyed in restaurants in Hong Kong. The bar in Central is inspired by the dreamy flower shops on the Boulevard in Paris. The design features floor-to-ceiling glass with sea views, love letters from all over the world, antique decorations, vintage black and white photos, French palace style, and the ceiling is also special, which is covered with dried flower ornaments, making the whole space overflowing with warm and romantic French style and classic elegance.
The cuisine is mainly Western food, and it is worth recommending the Mediterranean-style roasted French chestnut-fed chicken chop, the slow-cooked brown crispy octopus and so on. However, due to limited seats, you need to make reservations in advance if you want to go here!
Add: Store 4010, 4/F, International Finance Centre Mall, No. 8, 8 Finance St., Central, Hong Kong
Business hours: 11:30AM – 12PM Monday to Sunday
Tel: (852) 2771 6060
Official website 
Ideal Restaurant for the noble | Tsim Sha Tsui K11 | 181 at Fortnum & Mason
Enjoy elegant British afternoon tea
The Fortnum & Mason restaurant at K11 MUSEA in Tsim Sha Tsui is derived from the famous British tea brand loved by the Queen and the people. The two-storey boutique and dining room are designed with luxurious English style. The signage azury tea canister array inside the restaurant is absolutely the hot spot for girls to enjoy. With exquisite and unique tea set, you can enjoy authentic English afternoon tea while overlooking Victoria Harbour at sunset. The life of the noble is no different.
Add: Shop 022, K11 Atelier, No. 18, Salisbury Road, Tsim Sha Tsui, Kowloon, Hong Kong
Business hours: 11:30AM – 8:00PM Monday to Sunday
Tel: (852) 3916 8181
Official website
Fresh and Natural Feeling | Sai Ying Pun | Potato Head
Three-in-one: Handmade store, X café, X restaurant
Potato Head in Sai Ying Pun combines hand-made store, cafe and restaurant. The interior decoration of the store mainly follows the Indonesian style, and it also incorporates modern decoration, whether on the ceiling hanging ornaments, every corner by the window or the bar area. There are green potted plants all around, it will give you a fresh and cool feeling when you walk into the restaurant.
Add: G/F, No. 100 Third Street, Sai Ying Pun, Hong Kong
Business hours: 12:00PM-3:00PM; 5:00PM-11:00PM Monday to Sunday
Tel: (852 )2858 6066
Official website
Forest Hidden in the City | Mong Kok | Blue and white ATUM Champak Restaurant
Tropical Leisure Thai Restaurant
Located in The Forest Shopping Mall in Mong Kok, the blue and white ATUM Champak Restaurant is said to be another new restaurant of the art dessert shop ATUM. It follows the Southeast Asian style and focuses on innovative Southeast Asian cuisine. Every corner of the entire store is decorated with flowers and plants, the most eye-catching is the colorful and splendid flowers dotted on the ceiling, and even decorated with fresh flowers and plants in the dining setting and furnishings. It integrates floor-to-ceiling glass, golden lattice chairs and hanging plants. It will make you feel as if you are travelling to Thailand, ideal restaurant for you to enjoy!
Add: Shops 107-108, 1/F, The Forest, No. 17, Nelson St., Mong Kok
Business hours: 12:00PM – 10:30PM Monday to Sunday
Tel: (852) 3468 2558
Official website
Roaming the Mediterranean | Wan Chai | Fishsteria
Italian seafood
Fishsteria was founded by Italian celebrity chef Gianni Caprioli. It specializes in Italian seafood and Mediterranean cuisine. The restaurant is divided into two floors, with a restaurant upstairs and a bar downstairs. The restaurant is designed with the ocean in mind, with blue and white and wood as the main elements. The unique reversible boat located on the ceiling of the bar area is very creative.
The restaurant also has a Happy Hour period. In this period, it offers special discounts for oysters and selected alcoholic beverages. It will definitely satisfy the seafood lovers' thirst.
Add: Shop 3, New Fortune House, G/F, No. 2-5, New Praya, Kennedy Town
Business hours: 3PM-12MN Monday to Friday; 12PM-12MN Saturday and Sunday
Tel: (852) 2343 8111
Official website 
Road Trip | Tai Po | Mr Cardigan Plant House
White Container with Tiny Freshness
Located on the field at the intersection of Shan Liu Road in Tai Po, the design of the creative peaks is dominated by white container houses, like a roadside restaurant for road trips. The containers are decorated with various plants and have a long wooden bar counter, giving you a feeling of tiny Japanese freshness. Next to the store is the plant studio managed by the owner Frankie, which sells a variety of Japanese succulent plants and cactus. The sun shines through the floor-to-ceiling glass and is surrounded by green grass and trees. You can take beautiful photos anywhere you like. This is an ideal place for people who like succulents!
Add: White Container, Intersection of Shan Liu Road, Tai Po
Business hours: 2:00PM-6:00PM Sunday
Official website
Comfortable Forest Bath | Wan Chai | OVO Cafe
Healthy vegetarian restaurant
"The restaurant is beautiful, but it must be supported by green leaves" to describe the OVO Cafe in Wan Chai is the most suitable. With the forest-like plants as the decoration concept, every corner of the restaurant is full of various floral decorations and ornaments. The tables and chairs are made of wood, the whole space overflows warm and comfortable feeling, and you can take photos with tiny freshness easily!
The western-style vegetarian OVO Cafe restaurant is delicious and low-calorie, making it an ideal afternoon tea dating place for sisters who are busy slimming down.
Add: G/F, No. 1 Wan Chai Road, Wan Chai (Within Wan Chai Old Market)
Business hours: 11:30AM – 10:00PM Monday to Sunday
Tel: (852) 2527 6011
Official website 
Exotic Morocco | Mong Kok Gala Place | Morokok
2,000-foot sky garden
Morokok, located in Mong Kok Gala Place, occupies an area of 8,000 feet. Morokok specializes in authentic Thai snacks, and boosted by the Michelin Thai chef, so that your visual and taste buds will be surely satisfied! From the pure white arch at the entrance to the colorful tile floor and the open bar, every corner of the restaurant is your ideal places!
If you want to breathe fresh air, you may go to the outdoor 2000-foot sky garden to chill out, dine on the brightly colored traditional Moroccan carpets, tables and chairs, and in this way, you can feel the exotic North African exoticism in Mong Kok.
Add: Shop 801, 8/F, Gala Place, No. 56, Dundas St., Mong Kok
Businee hours: 11:30AM-1AM Monday to Sunday
Tel: (852) 2363 1882
Official website
Modern Chinese Cuisine | Central Grand Pavilion | Old Bailey
Hong Kong monuments with Jiangnan handmade dishes
Old Bailey is located in the Grand Pavilion (Monuments and Art Museum in Hong Kong). In addition to the signage revolving staircases and characteristic buildings, what attract most is the elegant Chinese Jiangnan cuisine, pure vegetarian dishes specially prepared, featuring a variety of styles and unique arrangement.
After savouring the delicious food, you can also visit the art and culture exhibition, it is a must-try restaurant for art youth and vegetarians!
Add: Shop 20, 2/F, Barracks Building, Grand Pavilion, No. 10, Hollywood Rd., Central
Business hours: 12:00PM-15:00PM Monday to Saturday, 12:00PM-11:00PM Sunday
Tel: (852) 2877 8711
Official website
Gorgeous in A Quiet Corner | Causeway Bay | Le Rêve
The Kingdom of Dreams
Le Rêve means "Dream" in French, and also represents a high-end restaurant with a unique style hidden in the busy city of Causeway Bay. Le Rêve combines an elegant bar, lighting scheduling, table and chair space and store decoration, showing an elegant and gorgeous taste. There is also an open-air position, where you can enjoy the stunning and lively night view of Causeway Bay with superb texture!
The restaurant specializes in Japanese and French cuisines. Each dish is exquisite and delicate, which will greatly increase your appetite at a glance.
Add: 10/F, Zing!, No. 38, Yiu Wa St., Causeway Bay
Business hours: 12:00PM-3:00PM, 6:00PM-2:00AM Monday to Sunday
Tel: (852) 2866 1010
Official website