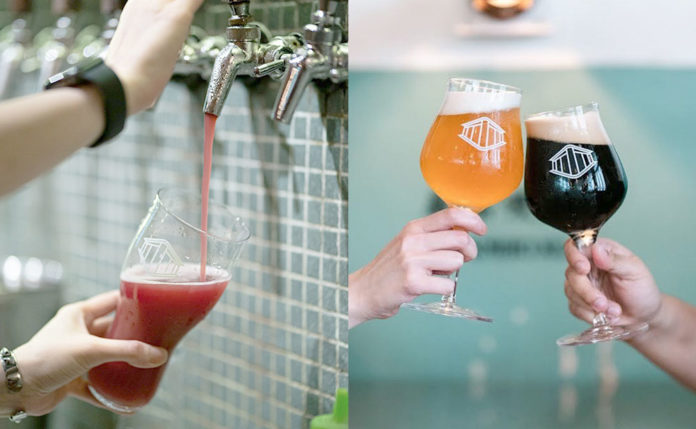 Craft beer in Hong Kong is always ignored by drunkards. People always think that beer is limited to popular beer brands such as Heineken and San Miguel. In fact, even Hong Kong has a craft beer factory that produces in-house craft beer. Characteristic craft beer from different countries cannot be found in most bars. To drink craft beer, you need to go to craft beer bars! There are many craft beer bars in Hong Kong with unique TAP heads. The editors at YAS have selected 5 craft beer bars so you can see what all the hype is about. Drinking beer in Hong Kong does not have to mean "drinking to the limit of your capacity"!
What is the difference between craft beer and popular beer?
Craft beer in Hong Kong, also known as "Craft Brew" in Taiwan, is made of malt and hops after fermentation. During the brewing process, a variety of fruits and flowers are added to create a variety of unique flavors. Craft beers are brewed exclusively with full malt and can only be produced in a maximum of 6 million barrels a year, in a sharp contrast to the big breweries.
Craft beer bar | Mong Kok ▪ The Ale Project (TAP)
Young Master's exclusive bar
Located in Mong Kok, the Ale Project (TAP) is the first craft beer bar in Kowloon. It is also subordinated to the craft beer of Young Master Brewery. The whole bar has 18 TAP heads, which only sells craft beer from local and foreign countries. Of course, the majority is the Young Master's craft beer. Occasionally there will be the Young Master's "hero beer" and "salty lemon beer". Another selling point of TAP is that coffee, Brunch, etc. are also sold in the bar. As for snacks, I strongly recommend salted egg yolk fries and golden fries made of crude potatoes.
The Ale Project (TAP)
Add: G/F, No. 15 Hak Po St., Mong Kok
Tel: 2468 2010
Business hours: 4pm–1am, 12nn–2am Saturday to Sunday, rest on Monday
Official website
Craft beer bar | Tsim Sha Tsui ▪ Kowloon Taproom
Distinguished craft beer
Kowloon Taproom, hidden in the corner of Tsim Sha Tsui, is generally patronized by foreigners. However, it contains rare craft beer, which is slightly different from the double bar in Tsim Sha Tsui. About 30 types of beer are provided daily, including TAP craft beer and bottled beer. The wide variety of flavors is enough to entice you.
Kowloon Taproom specially recommends a beer produced by Mak's Brewery, a Hong Kong craft brewery. The products have a strong Hong Kong flavor. It also adds flavors such as longan, mint, green plum and sugarcane to the craft beer to develop a unique beer taste. The longan beer is the most popular and is usually in short supply.
Kowloon Taproom
Add: G/F, No. 17-19 Ashley Road, Tsim Sha Tsui
Tel: 2861 0355
Business hours: 2pm–2am Tuesday to Friday; 1pm–2:00am Saturday to Sunday
Official website
Craft beer bar | Tsim Sha Tsui ▪ Master craft beer
Taiwanese craft beer bar
The master craft beer from Taiwan is the first bar in Hong Kong that only sells beer from its own brewery in Taiwan. It changes the drink list every Tuesday and Friday. Generally, there are about 20 craft beers provided daily. All beer is brewed in Taiwan. If you like Stout, try the award-winning "Professor X"; if you like Fruit Beer, "Mountain Fog" may be the first choice for you.
The master offers a beer platter. You can try 6 100ml beers at the price of just $188. The Taiwanese snacks in the bar are also not to be missed. As a regular customer, I strongly recommend salted crisp chicken and salted crispy chicken skin. If you want to chat in a quiet bar in Tsim Sha Tsui, the Master is a good choice.
Master Craft Beer
Add: Shop 1, Shun Fai Building, 64-66A Kimberley Road, Tsim Sha Tsui
Tel: 2656 1515
Business hours: 3pm–2am Sunday to Thursday; 3pm–3am Friday to Saturday
Official website
Craft beer bar | Tai Hang ▪ Second Draft
Retro Hong Kong Bar
Located in Tai Hang, although the location is somewhat isolated, Second Draft is a Hong Kong craft beer bar subordinated to the Young Master Brewery. It is also shared and served with the "Little Bao" restaurant. Second Draft is based on the decoration of nostalgic retro restaurants in Hong Kong. A total of 26 craft beers are provided with all poured out by TAP. The dishes are led by May Chow, the best female chef in Asia. Most of them are based on Fushion dishes to design a series of creative snacks combining Chinese and Western ingredients to match with a variety of craft beers. For example: the Tai Hang French Fries combines dried peppers, high vegetables, and cumin powder into French fries, covered with mayonnaise mixed with garlic and high vegetables. You can drink one glass of craft beer after another while indulging yourself with some mouth-watering snacks.
Second Draft
Add: G/F, No. 98 Tung Lo Wan Road, Tai Hang
Tel: 2656 0232
Business hours: 4pm–1am Monday to Friday; 12nn–1am Saturday to Sunday
Official website
Craft beer bar | Central ▪ 65 Peel
Few craft beer in Soho
Located in Soho, Central, the "65 Peel", a Hong Kong-style bar with a mischievous Cantonese pronunciation of the name "Ho LunJeng", has attracted many guests. Generally, the bar is decorated in a modern Western style, but this bar is dressed like an authentic bumpkin. The neon "foreign tea" in the shop is also a place where many people come to visit. The decoration, pattern tiles, and iron window bars permeate Hong Kong's past flavour.
65 Peel's location is in the cocktail bar area of Soho District, offering ultra-characteristic craft beers, including preserved prune beer, as well as floral water beer.
65 Peel
Add: G/F, No. 65-65A Peel Street, Central
Tel: 2342 2224
Business hours: 4pm-1am Monday to Thursday; 4pm-2am Friday to Saturday; 2pm-1am Sunday
Official website
Read More: [Scenic bar in Hong Kong of 2020] Good places for girls' gathering and drinking! 12 open-air rooftop bars recommended