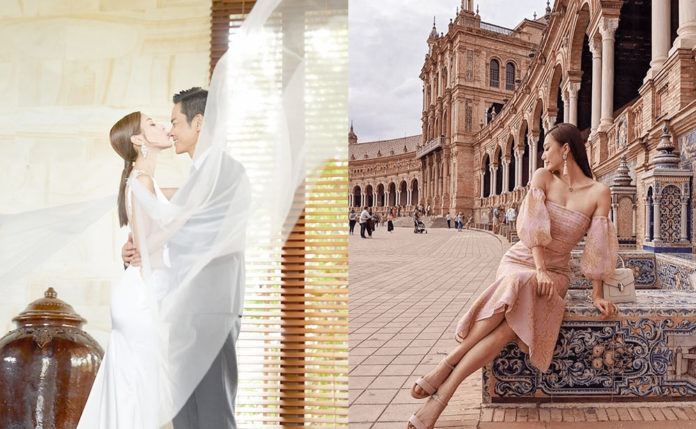 [Bridesmaid dresses recommended in 2020] There are wedding banquets, company anniversary parties, birthday parties, etc. throughout the year. When attending parties, it is a headache for most girls trying to find the right dress. You cannot always wear the same dress on every occasion, especially when good friends get married and you are invited to be a sister or bridesmaid. You need to choose your dress carefully. Buying a new evening dress or bridesmaid dress for every party or wedding and wearing it only once is a waste. Each time you rent a skirt, you only need a few hundred dollars, which is environmentally friendly and not a waste. If you pick a brand-name dress, you will become the focus of the night!
—
▶▶ From welcome, entry to see off | Collection of 25 songs for wedding ceremonies
—
Renting Bridesmaid dresses 01 | Pret A Dress
There many choices besides the Bridesmaid dresses
Since its opening, Pret A Dress has been loved by many female stars for renting Bridesmaid Dresses or evening dresses. There are many styles in the online shop, most of which focus on designer brands and evening wear brands, including Self-portrait and Sandro, Alexis, Needle & Thread, which are popular among Hong Kong ladies. In order to bring freshness to customers, the online shop will update the skirt styles every month. Customers can try the dress in the store before choosing the style they want. It is recommended that you rent a Bridesmaid dress together with your sisters, or it is also suitable for the bride to rent a dinner party dress at PretA Dress.
In addition to renting evening clothes, Pret A Dress also provides many accessories, shoes, etc., allowing customers to choose a shape that suits different banquets. In addition to gorgeous evening dresses, the online shop also has many neutral jumpsuits, suitable for girls with different dressing styles.
Pret A Dress
Add: 16/F, Jade Center, No. 98, Wellington Street, Soho, Central
Tel: 2217 8330
Business hours: 11am–8pm Monday to Friday; 12nn-6pm Sunday; 12nn–4pm Sunday
Rent: HK$590 or above/4 days
Pret A Dress
Renting Bridesmaid dresses 02 |Wardrobista
Own The Look, Not The Dress
Wardrobista, was a shared wardrobe created by two Hong Kong girls, as an alternative for people who buy clothes to only wear once or twice. They combine protecting the environment and fashion with the concept of "Own The Look, Not The Dress". The online shop provides many evening dresses of different brands such as Fendi, Burberry, Red Valentino, Vera Wang and Dreamle & Thread, which are popular among girls. The price of renting dresses varies. The cheapest dress is HKD390, which can be rented for 4 days.
In addition to the popular mid-priced brand evening dresses, the online shop even has the dresses from US brand Jenny Packham, which are usually priced at more than HK$30,000. You will become the focus of the audience with this dress on. In addition, Wardrobista has a physical store, so that customers can choose their favourite dresses from the website, and then try them on in the store. After the leasing, the dress can be returned by express delivery. The process is quick and convenient. In addition to renting evening dresses and bridesmaid's dresses, the online shop also launched a clothing consignment service, which has a wide range of clothing from tops to jackets.
Wardrobista
Add: 2/F, No. 19, Yun Ping Road, Causeway Bay
Tel: 6611 8715
Business hours: 12:30pm–8:30pm Monday to Friday; 12nn–7pm Saturday; 12nn-6pm Sunday
Rent: HK$390 or above /4 days
Wardrobista
Renting Bridesmaid dresses 03 | The Wedding Gown
Grace Chan's wedding dress rented
Another online shop recommended for renting Bridesmaid dresses is The Wedding Gown, which also has a strong celebrity status. Popular customers include Grace Chan and Angelababy. The online shop mainly rents wedding dresses and bridesmaid dresses. In addition, there are exclusive wedding dress brands from all over the world. It also provides evening dress rental services for different occasions.
The most popular among them is Nicole+Felicia, a Taiwan brand. The wedding dresses are gorgeous and exaggerated. They are designed with tulle. Even Elva Ni has purchased their dresses. The tailor-made tailoring design makes the curves of your body more prominent. The bride can also rent their wedding dress here.
The Wedding Gown
Add: 8/F, Winsome House, No. 73, Wyndham Street, Central
Tel: 9189 3997
Business hours: 11am–7pm
The Wedding Gown
Renting Bridesmaid dresses 04 | YeeChoo
Great deal for renting an evening dress
Yeechoo, a dress rental network with everything from daily wear to evening wear, was established in 2014. It is the first high-end fashion apparel rental platform in Hong Kong. There are more than 1,000 international brand fashion apparel in the online shop such as Self Portrait, Alexander Wang, Valentino, Jimmy Choo. It is very suitable for girls to choose their day and night Bridesmaid dresses. The procedures for renting evening dresses or Bridesmaid dresses are very simple. You can make an appointment for try-on only by choosing dress style, size, and which days, and a deal may be made with only a few hundred dollars.
In addition, the online shop has regular annual discounts; selected designer brands and accessories are sold at bargain prices.
YeeChoo
Add: Room 1B, No. 128, Wellington Street, Central
Tel: 2336 9090
Business hours: 11am-8pm Monday to Friday; 12nn-7pm Saturday; 12nn-4pm Sunday
Rent: HK$400 or above /4 days
Yeechoo