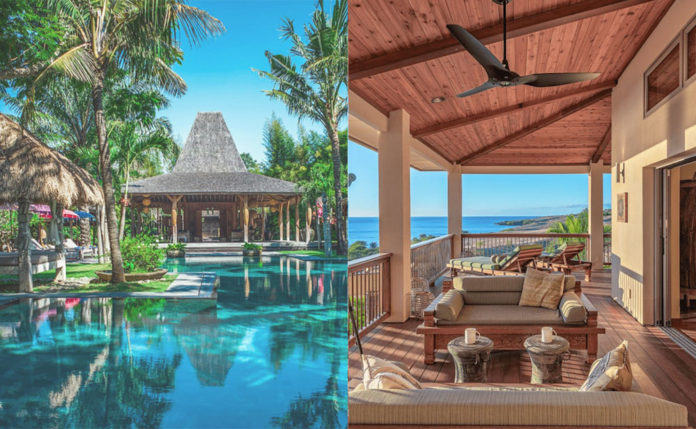 It is impossible for ordinary workers to have a villa on the top of hills or with ocean view. Airbnb Luxe provides ordinary people with an opportunity to live in luxury houses. Resorts in coastal areas Bali Island and LA independent villas with fashionable design can be found on Airbnb Luxe. Currently, only Bali Island, Koh Samui Island and Phuket Island are available in Asia. You should not miss the opportunity to experience luxury life at an average of HK$1,000!
Sources of photos: Airbnb Luxe, Luxury Retreats
Price: HK$9,769 per night | Maximum number of guests: 12
Bali Island in Indonesia is a well-known resort with a clean environment without pollution. It is also known for its spaciousness.
Villa Ka on Bali Island has private swimming pools and six double dooms. Its living room and dining room are over 1,000 square feet. It has 24-hour staff, personal chef (food materials must be provided separately), parking spaces, and is suitable for newly-weds on honeymoon with their family members. It charges only HK$816 for each person per night. It is really a good choice to have a calm and luxury space with your family!
Price: HK$8,365 per night | Maximum number of guests: 10
There are also many luxury villas in resorts on Koh Samui Island. It attracts tourists with its clear seawater and soft sands. Villa Loxley, which is located near Six Senses resorts in the north of Koh Samui Island, has a huge swimming pool facing the sea. It sits on a hill with 5 guestrooms.
It also has gyms and jacuzzis. The biggest selling point is its huge swimming pool facing the sea. Plai Laem and Samrong Bay Beach is only a 5 minute walk away. Its transportation, decoration and views are unparallel.
Price: HK$27,136 per night | Maximum number of guests: 12
The housing price in Los Angeles is extremely high, but an independent villa with over HK$20,000 per night is worthwhile! Located near Malibu beach in Los Angeles, Victoria Point villa faces the sea without shelters. It has warm jacuzzis and barbecue ovens outside and 5 guestroom, elevators and a cinema inside.
The villa has stairs connecting the beach. Even about HK$2,000 for one night for each person, it will be unforgettable to try a luxury villa with over HK$10 million.
Price: HK$5,811 per night | Maximum number of guests: 8
During the visit to the Alps, you must live in cabins to enjoy the snow view in the early morning. The cabins under the Alps are not as luxury as coastal villas, but they are close to the ski resort. Don't miss it if you want to go skiing!
The three-storied villa has 4 guestrooms with cinemas and kitchens. But the accommodation excludes the tourism tax of 3 euros (HK$25), the cleaning fee and three meals. You can consult Airbnb before checking in.
Price: HK$14,975 per night | Maximum number of guests: 10
New Zealand is a paradise to enjoy natural landscapes. Otaha Beachfront Lodge, located on the hill neighbouring Takou Bay, is ta luxury dreamed by almost all travellers.
Besides the 2 king-size masters' rooms with the ocean view, the 2 suits with the mountain view are also wonderful. It also has living rooms and dining rooms. The French windows bring a spacious view as there are no other houses nearby. It is a really nice location to escape from the world temporarily!
Price: HK$7,753 per night | Maximum number of guests: 6
The old generation prefers holidaying in Hawaii because of the sunshine and beautiful beaches! The two-storied Whales Play has 3 guestrooms for a maximum of 6 guests. Like other luxury villas, it keeps certain distance with other villas.
The villa has a large swimming pool. The view on the terrace is beautiful with sufficient sunshine. You can fully relax yourself.