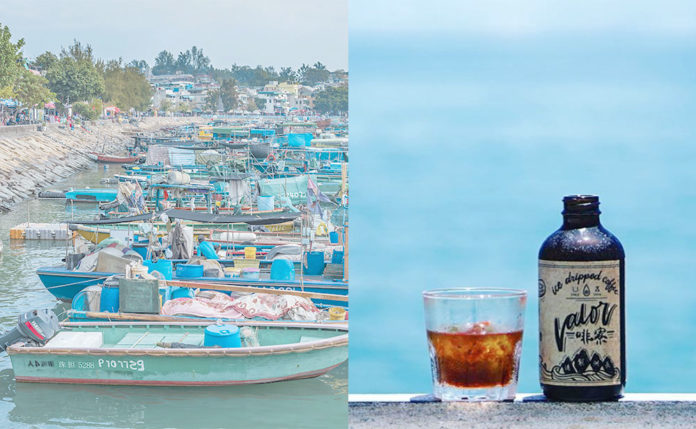 [Good place in Hong Kong | Cheung Chau] Almost all Hong Kong people have visited Cheung Chau. This island is the most developed offshore island in Hong Kong. Even if you go for a whole day, you will not feel bored at all. Cheung Chau is a place which has traditional food, trendy small shops, and photography hotspots such as the beach and Cheung Po Tsai Cave. It is even hailed as the Hong Kong version of the Kamakura in the Little Red Book. In the following weekend, you may visit Cheung Chau and see the changes undergone over the years.
—
Please do not bother the local residents when photographing!
—
Transportation for Cheung Chau
By ferry at Central (Pier 5):


Ordinary ferry
High-speed ship
Voyage
About 55-60 minutes
About 35-40 minutes
Fare
(Monday to Saturday) $13.60
(Sunday and holidays) $20.20
(Monday to Saturday) $26.80
(Sundays and holidays) $38.80
Photographing in Cheung Chau | Cheung Po Tsai Cave
Cheung Po Tsai Cave, a photographing place in Cheung Chau, is a must-visit on a day trip to Cheung Chau. After disembarking at Cheung Chau Pier, you need to follow the signs and walk to the right for about 30 minutes, or you may also take a boat at the pier to get there in five minutes.
Cheung Po Tsai Cave is a pirate cave in the Qing Dynasty. It is said that the cave is the place where the pirate Cheung Po Tsai collected treasures. However, due to the narrow entrance to the cave, dark and slippery ground, it is not recommended for a large number of tourists to explore.
Way to go
After arriving at the pier, turn right,
Walk along the coast for 20 minutes to Tin Hau Temple in Sai Wan.
Go up the mountain from the trail behind Tin Hau Temple in Sai Wan,
Walk for about 10 minutes.
Photographing in Cheung Chau | Stonehenge
Another photographing place of Cheung Chau known for few people is the Cheung Chau Five-element Stone. On the seaside opposite Cheung Po Tsai Cave, as you walk along the path, you can see that the five stones seem to be falling into the sea from a distance. The five big stones are arranged in a row, and there are also many strange shaped rocks that have been eroded by the waves.
Way to go
From Cheung Po Tsai Cave, walk for 15 minutes along the side road
Cheung Chau big fish egg | Kam Yong Tai fish egg
Besides mango sticky rice dumplings and big fish eggs, Cheung Chau is best known for Kam Yong Tai fish eggs on the Grand Plaza. Every day, fresh homemade fish eggs are fried and eaten; it is a truly tasty and refreshing treat. Almost all tourists in Cheung Chau will carry a bunch of them. In addition to the big fish eggs, Kam Yong Tai especially recommends fish stuffed with beans and shrimp balls, which is also worth a try!
Add: G/F, No. 106 San Hing Street, Cheung Chau
Tel: 2981 3050
Business hours: 7:00am – 5:00pm
Cheung Chau safe steamed stuffed bun | Kwok Kam Kee Cake Shop
Kwok Kam Kee is one of two major suppliers of safe steamed stuffed bun on Cheung Chau Island. The safe steamed stuffed bun has three flavors, including sweetened bean paste, lotus seed paste and sesame paste. The buns can be taken home as a thoughtful and delicious souvenir. In addition, the shop also sells traditional sesame cakes, pork buns and white gourd buns.
Kwok Kam Kee Cake Shop
Add: Shop 46, Pak She Street, Cheung Chau
Tel: 2986 9717 / 9841 5683
Business hours: 6am–7pm
Cheung Chau has opened more and more small shops in recent years that sell coffee and handmade goods, all of which have a distinctive art and atmosphere. Cheung Chau is not only restricted to going to the mountains and the sea, but also walking around the small shops on the island. You'll need to spend a whole day to take in all of Cheung Chau!
Shop in Cheung Chau | Goods bento ▪ Island Workbench
A goods grocery shop run by two local designers has two branches in Cheung Chau. Only the Shuxia shop in the open space in front of Tin Hau Temple sells food, with simple and plain decoration. Many people pay a visit to Cheung Chau just to go to Island Workbench!
Island Workbench
Add: Open space in front of Tin Hau Temple, No. 16, Middle School Road, Cheung Chau
Tel: 54806627
Cafe in Cheung Chau | Valor
The owner of Valor is a young man who returned from abroad, bringing iced coffee to Cheung Chau. At the entrance is the wall of the coffee drainer. The decoration is simple and fresh. Coffee is added to the characteristics of Cheung Chau: coconut iced coffee, Cheung Chau iced coffee, etc.
Valor
Add: G/F, No. 4, San Hing Street, Cheung Chau
Tel: 6699 5892
Business hours: 10:30AM-7PM, 10AM-7PM Saturday and Sunday
Shop in Cheung Chau | Small groceries ▪ Little Island Little Taste
Little Island Little Taste sells hand-made goods, accessories printed with safe steamed stuffed bun, and 925 sterling silver ornaments, which are exquisitely hand-made and unique. In addition to steamed stuffed buns and mango glutinous rice dumplings, there are also unique Cheung Chau souvenirs.
Little Island Little Taste
Add: G/F, No. 81, San Hing Waterfront Street
Tel: 6758 3765
Business hours: 11AM-7:30PM
Read More: Mui Wo | Quiet Outing in Island: Silver Mine Bay Waterfall, Lo Fu Tau Hiking A Good Place in Hong Kong