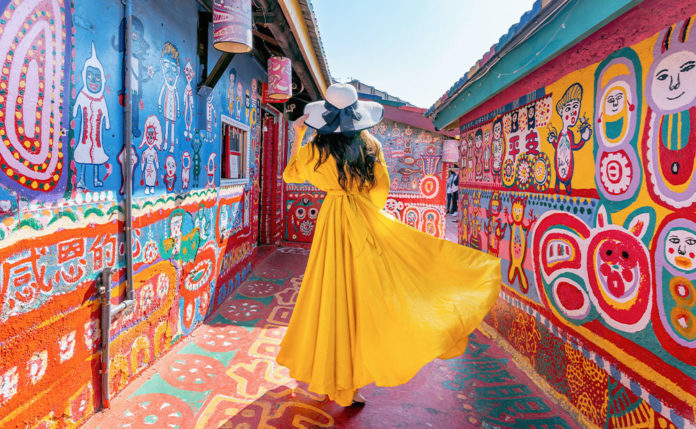 Many worry that the traffic in Taichung is less developed than Taipei when travelling there. They can only choose renting your own car or charted buses. Compared with charted bus, we advise you to rent your own car in Taichung. Besides the flexible schedule, you can drive to scenic spots in the suburbs of Taichung! The following are tips on roadtripping in Taichung, how to rent vehicles and the routes recommended for roadtrips in Taichung.
Tips on roadtripping in Taichung:
International driving permits are required for driving in Taichung or other places in the world and you can apply for it at the Transport Department.
The traffic direction in Taiwan is different from Hong Kong. It is left-side driving in Taiwan while it is right-side driving in Hong Kong. As a matter of fact, experienced drivers will get used to it after driving for about one hour!
There are yellow lights flashing at many crossroads. These mean that you should pay attention to if there are vehicles coming to the main road. Such vehicles shall allow you to go first.
Red lights mean that you are coming to the main road and you should check if there are vehicles on the main road.
You should note that when you turn left at crossroads, you should check if there are vehicles from the opposite side even it is green light for you. You should allow the vehicles from the opposite side first.
Tips on renting vehicles for road trip in Taichung:
Online vehicle renting companies
There are many choices for renting vehicles for a roadtrip in Taichung, such as international chain companies or local vehicles renting companies. You can pick up a vehicle at Taichung Airport and return it in the urban areas of Taipei. You are advised to choose local large vehicles renting companies for Taichung.
There are 3 major vehicles renting companies in Taiwan, namely Hotai Leasing, Carplus and AVIS. Online operation is easy and convenient.
Hotai Leasing: https://www.easyrent.com.tw
Carplus: https://www.car-plus.com.tw/
AVIS: https://www.avis-taiwan.com/
Tips on returning vehicles
You should know that expressways in Taiwan are tolled roads in Taichung. All lanes in Taiwan adopt fully automatic electronic charging systems and each vehicle is installed with electronic sensors. You just need to check the information on road tolls when returning vehicles.
You are advised to consult the staff on how to use vehicles and take photos of any damage to the vehicles when picking up the vehicle to protect your interests.
Return the vehicles with the tanks full. Otherwise, additional charges will be paid.
Routes recommended for roadtripping in Taichung
There are many scenic spots in Taichung, including Gaomei Wetland, Ancient Castle, Taichung Opera House and Shen Ji New Village. The following are popular routes in Taichung!
Routes for one-day tour of Taichung
If you only arrange one day in Taichung, you may visit the Luce Memorial Chapel in Tunghai University in the morning. Then you can have milk ice, visit Rainbow Village and take a rest at Tsutaya Bookstore. You may visit Fantasy cultural and creative cluster as your last station.
Routes recommended for 5-day roadtrip in Taichung
Day 1: (Accommodation) Sun Hot Spring & Resort → Taichung Eslite → Feng Chia Night Market
Day 2: (Accommodation) Sun Hot Spring & Resort → Rainbow Village →Nantou Sky Bridge → Alishan National Scenic Area
Day 3: Alishan Tsou Cultural Tribe → Chiayi County → Sun Moon Lake
Day 4: Sun Moon Lake → Checheng Station → Railway Station → Puli Township → Lushan Hot Spring
Day 5: Lushan Hot Spring → Hehuan Mountain → Green Green Grassland

Besides the routes recommended for your tour of Taichung, the following scenic spots should not be missed during your roadtrip in Taichung:
1. Rainbow Village
The colorful paintings in Rainbow Village are the works of Huang Yung-fu, who has been staying in the village for over 30 years. From human beings, buffalos, birds to airplanes and even pandas Tuan Tuan and Yuan Yuan were in the paintings. The paintings are full of joyful and dreamy imagery, and attracts many tourists to take photos.
2. Nantou Sky Bridge
Located in Houtanjing Recreation Area, it is the second curved suspended bridge in Taiwan. It is 204 meters long and allows 150 people each time. People enter from the north side and exit from the south side.
3. Alishan National Scenic Area
Located in Chiayi County, it covers an area from Alishan Township to Fanlu Township. Although it is located in the suburbs, it is convenient to go to in Taichung. Surrounded by high mountains, the area has various natural landscapes, such as cherry blossoms and waterfalls. You may also enjoy various wild animals.
4. Hehuan Mountain
You are advised to visit the mountain during tour of Taichung. Most scenic spots are in the suburbs. Hehuan Mountain is located at the junction of Taichung, Hualien and Nantou with an altitude of 3,400 feet. Due to the long-time low temperature, it snows during the winter. It is one of the few spots with a snowy landscape.