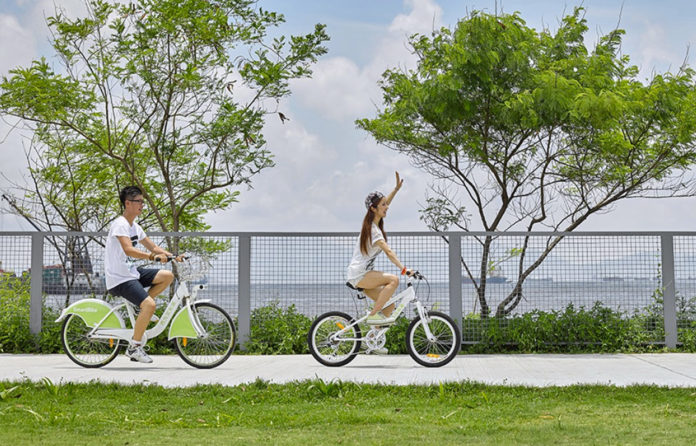 Do you want to go cycling on during the holidays but get tired of the crowded areas such as Tai Mei Tuk, Tai Wai, Sha Tin? As a matter of fact, there are many cycling parks and paths for parents and their children to enjoy together. Quarry Bay has convenient traffic and Ma On Shan Park has beautiful scenery. Regardless, they are all suitable for cyclers to enjoy.
Please remember that safety always comes first. Please follow cycling rules to ensure your safety and happiness.
Quarry Bay Park: Best path for parent-child cycling
Quarry Bay Park is the most popular cycling park among children. Besides entertainment facilities, it has a 640-meter cycling path with straight and twisting paths. The path is flat without barriers and is good for children to practice cycling.
There is a pedestrian pathway next to the cycling path for parents' accompanying. However, there are no bicycles available to rent in the park or surrounding areas. Please prepare accordingly beforehand.
Add: Hoi Tai Street, Quarry Bay 
The park is open 24 hours a day
Entertainment facilities are open from 7:00am – 11:00pm
Bicycles for renting: No
Traffic: Walk about 10 minutes from Exit E of MTR Taikoo Station and you will arrive after passing through the central area of Taikoo Shing and the pedestrian overpass 
Kowloon Bay Park: A cycling park with a unique design
Kowloon Bay Park neighboring Richland Gardens is a cycling park with a novel design and complete facilities. It has a cycling path for children and beginners. There are round routes and small slopes that you can practice on.
You may try 8-shaped stainless bicycles to enjoy the beautiful scenery.
Add: No. 18 Kai Lai Road, Kowloon Bay
Open hours: 7:00am – 11:00pm
Bicycles for renting: HKD40/hour, HKD120/day (returning by 7:00pm)
Traffic: Transfer minibus 51M or walk 15 minutes from MTR Kowloon Bay Station
Po Kong Village Road Cycling Park: Elevated loopback cycling path
The Po Kong Village Road Cycling Park opened in early 2012 and has the first 1-kilometer elevated loopback cycling path in Hong Kong. It is 1 kilometer long in total and 6 meters wide. You can enjoy cycling on the wide path.
Only bicycles are allowed to use the cycling path and bicyclers shall wear helmets. Tricycles and quadric-cycles are not allowed.
Add: No. 140 Po Kong Village Road, Diamond Hill
Open hours: Elevated loopback cycling path and cycling path (8:00am-10:30pm) 
Pavilions for bicycles renting: 10:00am–7:00pm, Monday to Friday
10:00am–8:00pm, Saturday, Sunday and public holidays 
Bicycles for renting: Yes (HKD30/hour with helmets)
Traffic: Take buses 3C or 203E or minibuses 33A or 33M to the park
Ma On Shan Park: The most beautiful coastal cycling path
Ma On Shan Park, located at Ma On Shan Centre, has a small cycling square along with standard cycling paths. Children and beginners may ride on the small square. More advanced cyclers can ride on the standard cycling path connecting Tai Po, Sha Tin whilst enjoy the sea view.
If you come from a different district, you may rent a bicycle from the shop in Fok On Garden, opposite the park.
Add: No. On Chun Street, Ma On Shan
Open hours: 6:00am-11:00pm
Bicycles for renting: Yes (the bicycle shop in Fok On Garden on the opposite of Ma On Shan Park)
Traffic: Walk about 10 minutes from Exit A of MTR Ma On Shan Station
Tuen Mun Park: A riverside tranquil cycling path
People will think of Tuen Mun Park for cycling in Tuen Mun. The riverside cycling path is about 535 meters with different road symbols to reduce injuries. There are few people on weekdays and holidays. It is safe and suitable for green bicyclers and children. Cycling along the river, you may enjoy the view and light railway and even to Tuen Mun Road Safety Town.
Add: Tuen Mun Heung Sze Wui Road
Open hours: 24 hours a day
Bicycles for renting: No
Traffic: Walk about 5 minutes from Exit B of MTR Tuen Mun Station