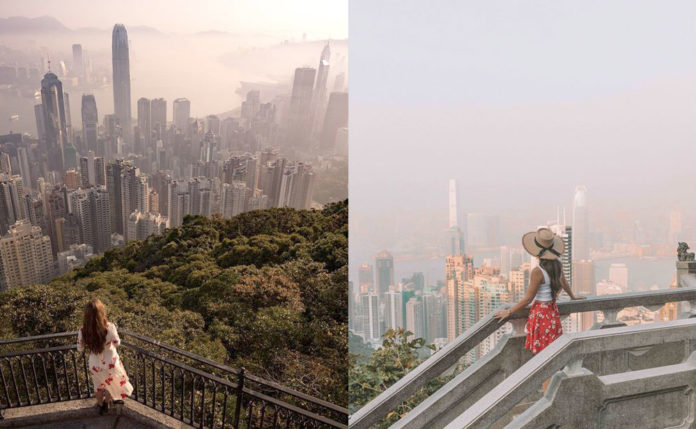 Are you getting bored in Hong Kong? Especially for those couples who go out with each other every weekend, your boyfriend is probably running out of ideas. Fear not, Hong Kong has a lot of good places for couples, especially now that there are very few tourists at the scenic spots. Now is the best time to go to tourist attractions! "Victoria Peak", one of the best places for couples in Hong Kong, is known as a tourist hotspot. Hong Kong people seldom go to Victoria Peak to enjoy the stunning scenery of Hong Kong. On the coming weekend, you may go to the top of the mountain with your spouse or girlfriends, and you may have a completely new experience!
Good place for couples | Peak Tram
Ride the historic Tram to the top of the mountain
Peak Tram has a history of more than 100 years. It takes about 8-10 minutes by tram. It climbs from 28 meters to 396 meters above sea level. From the dense forest, you can gradually see the scenery of Victoria Harbour. The scenery along the way is amazing! More than 6 million visitors come through each year. You may climb the peak by tram from the Tram Station on Garden Road in Central. The Peak Tram time is 7am-10pm, with scheduling of every 15 to 20 minutes. You can buy tickets on site or online.
The scenery of Peak Tram is more beautiful when going uphill than downhill. It is recommended to take Peak Tram when going uphill. Photo/Hong Kong Tourism Board
Peak Tram fares
If you don't want to go back and forth to Garden Road Terminal, just take one-way Peak Tram and take the bus back to Causeway Bay and Central.
| | | |
| --- | --- | --- |
| | Round-trip | One-way |
| Adults | HK$52 | HK$37 |
| Children (3-11 years old), seniors (65 years old or above), special offer | HK$23 | HK$14 |
A good place for couples | Peak loop walking path
It is also possible to get to the top for free if you are keen for a walk. You can enter from Lugard Road and exit from Harlech Road, couples can roam the walking trail hand in hand! If you start walking before sunset, you might as well walk in the opposite direction. Catch the scenery of the northern area of Hong Kong Island at different times, especially the night view of the peak!
Lugard Road Observation Deck is located in the middle of the trail. Walking along Lugard Road for 20 minutes, you will reach the best place on the peak. Here, the landscape is open, and you can see the scenery from Sheung Wan to Tsim Sha Tsui. There is another scenic spot on this century-old plank road: Victoria Peak Lion Pavilion, which is also a good place to take photos!
A good place for couples | Victoria Peak Garden
Secret garden close to the sky
Walking along Mount Austin Road or Harlech Road Fitness Trail, you will go to Victoria Peak Garden! Formerly known as the Governor's Hilltop Villa. The Villa is filled with British 19th-century Victorian architecture. The garden's beautiful meadow, and Roman-style stone pillars and pavilions, is like a secret hideaway, perfect for couples to have a picnic on vacation. Victoria Peak Garden is regarded as the highest and closest garden to the sky in Hong Kong. You can hold your girlfriend's hand and lie on the soft green grass while looking up at the blue sky.
A good place for couples | Tram View Cafe
Tram View Cafe is actually not in the Victoria Peak range, but it is next to the Garden Road Tram Station in Central. It is most suitable for couples who are in front of the peak. There are few choices for restaurants at the peak, most of which are chain stores. It is better to have a light meal at the Tram View Cage before going up. What's most special is that you can see the tram slowly passing in the big window. It is a hot spot for many people to visit!
Tram View Cafe
Add: G/F, No. 2 Tramway Path, Central, Hong Kong
Tel: 2323 6873
Business hours:
11am-7pm
10am-6pm Saturday, Sunday and public holidays
Official website
A good place for couples | Monopoly Dreams Hong Kong™ Theme Pavilion
The world's first Monopoly Theme Pavilion is located in the Peak Plaza. Sadly, there is no real-life monopoly game that you can play, but the games and devices in it are all related to Monopoly. You can learn about monopoly through an interactive experience. Moreover, it also has souvenir shops and snack shops. Couples will have a pleasant afternoon here!
Monopoly Dreams Hong Kong™ Theme Pavilion
Add: Shop 301, 3/F, Peak Plaza, No. 118, Peak Road, Hong Kong
Tel: 3905 4511
Business hours:
Ticket: $208 or above
Ticket booking
Staycation for couples in Hong Kong: The Murray
The Murray House, a 25-storey hotel with 336 exquisite suites, is located next to Tram Station on Garden Road in Central. After checking in the afternoon, you can go to the peak to enjoy the night view together with your significant other before returning to the hotel for dinner. KKDay's accommodation and food experience package (from now to 30 June 2020) will carefully arrange your check-in schedule for two days. Here, you can enjoy the comfort of the upgraded rooms, and have breakfast, lunch, dinner and afternoon tea in 5 elegant restaurants and bars at the hotel. Moreover, you can enjoy the sight of the ancient trees and historical site with the Murray historical tour group for free.
▶▶[Accommodation and food experience package] The Murray, Hong Kong