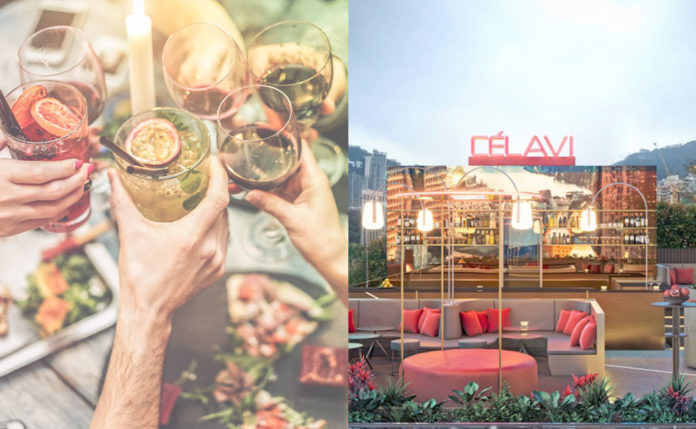 More scenic bars are opening in Hong Kong, and they are most suitable for girlfriends to talk about their minds while drinking, or a large group of people to open the Sky bar party. Most open-air bars in Hong Kong overlook Victoria Harbour. Whether, it's sunset, Magic Hour, or nightime, your photo will come out instaworthy. The editor of YAS has listed 10 scenic rooftop bars hidden in Hong Kong for 2020, and brought you a selection of bars in Hong Kong, so that you and your sisters can have a fun time over the weekend.
1. FoFo by el Willy – A Spanish-inspired open-air bar
Enjoy the recommended scenic bar in Central
FoFo by el Willy is located on Wellington Street, Central. You can enjoy a panoramic view of the city and the green hills. Fofo by El Willy, a Spanish restaurant that has been around for more than a decade, offers a seasonal menu with contemporary takes on traditional Spanish dishes. Every time you go, you will be greeted with something new.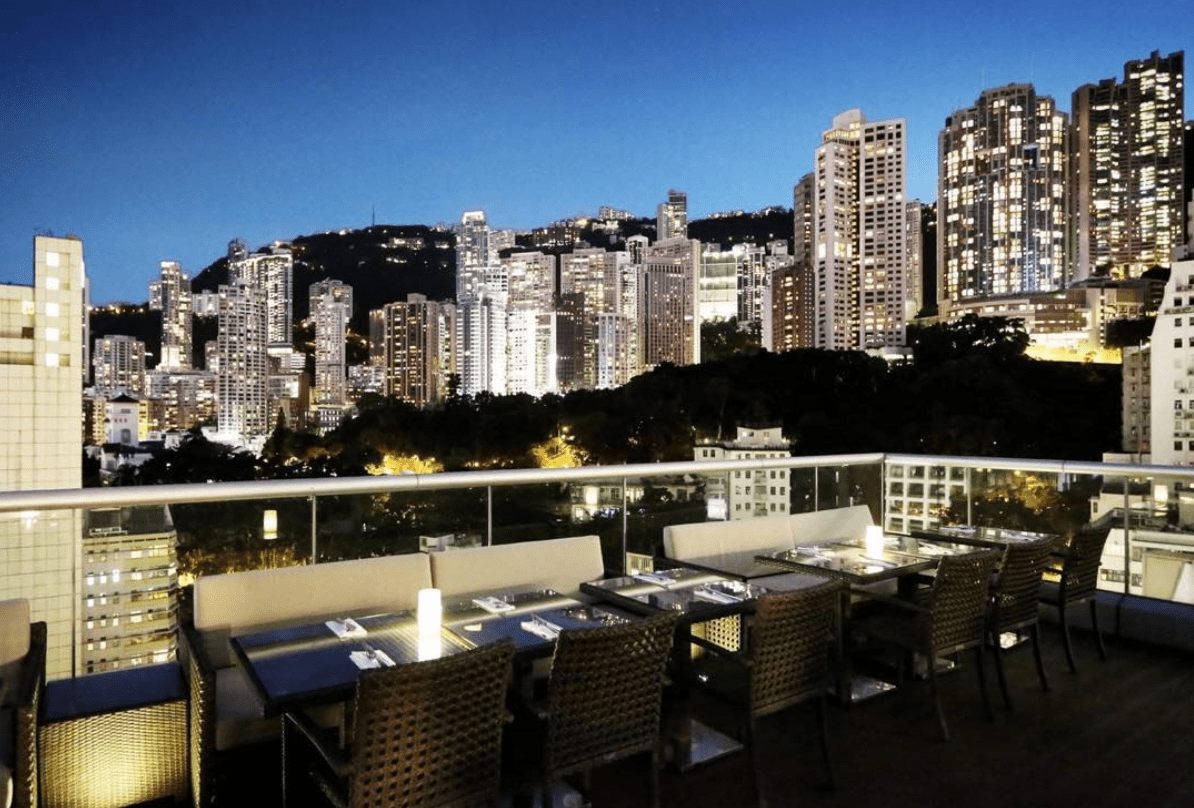 Drinks are rich in variety, Cinnamon Negroni, cocktail combination of Cinnamon and blueberry, is recommended for its first-class sense of hierarchy.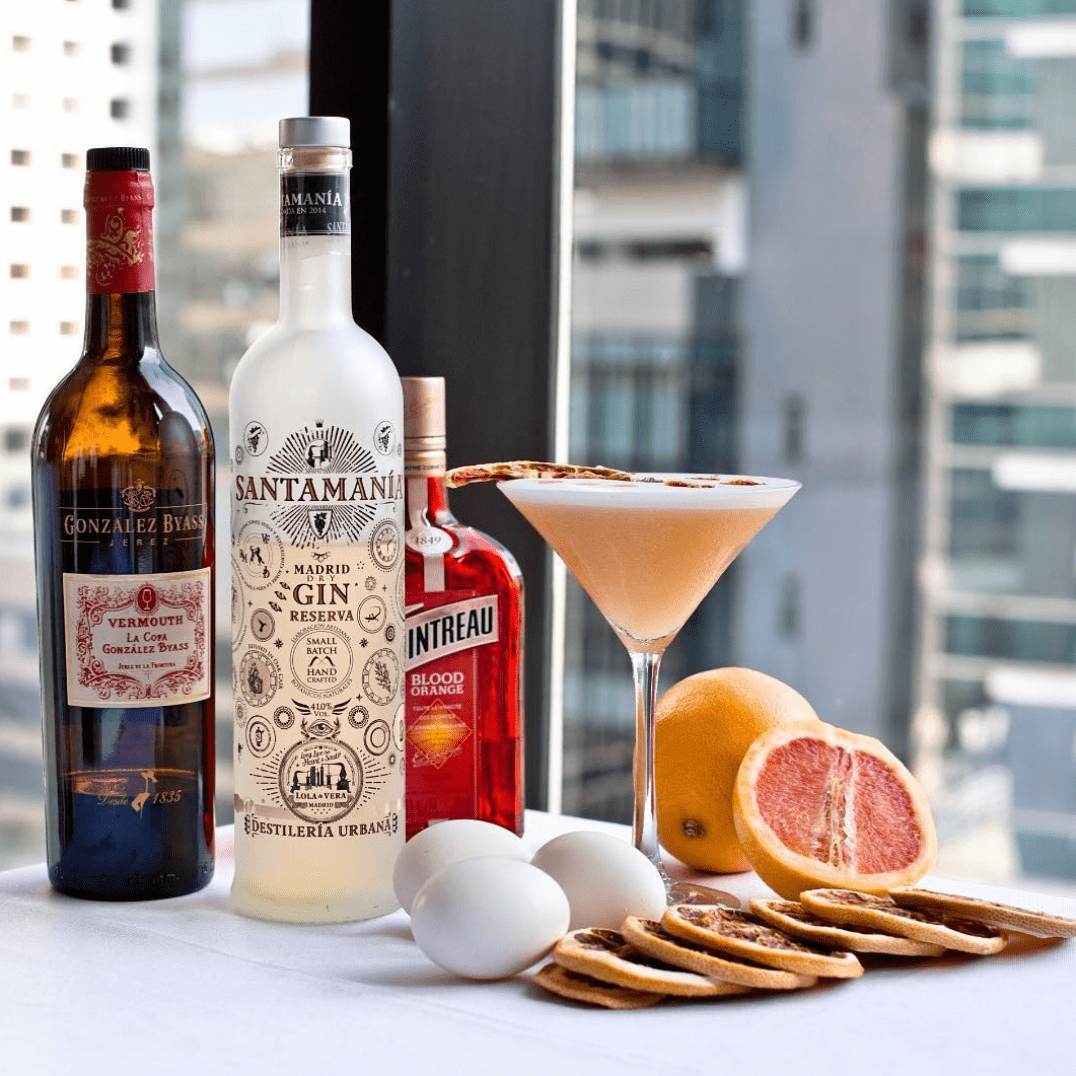 Fresh ingredients and exquisite dishes, high quality and affordable price, and a quiet and comfortable environment, FoFo by el Willy will satisfy your desire to overlook the night view of Hong Kong from a height. With authentic European cuisine, FoFo by el Willy is an ideal secret base for gatherings.
Add: FoFo by el Willy
20/F, M88, Wellington Place 2-8 Wellington Street, Central
Tel: 2900 2009
Official website
2. Terrible Baby – Secret garden open-air bar in Jordan
Popular scenic bar in central Kowloon
Terrible Baby has become a popular open-air bar in the heart of Jordan, Hong Kong with a unique and creative name. It is located on the 4th floor of Eaton HK. As soon as you walk into the spacious, bright and airy bar, you will be surrounded by an open-air garden with green plants. You can enjoy the panoramic view of Jordan's prosperity while enjoying the live band performance.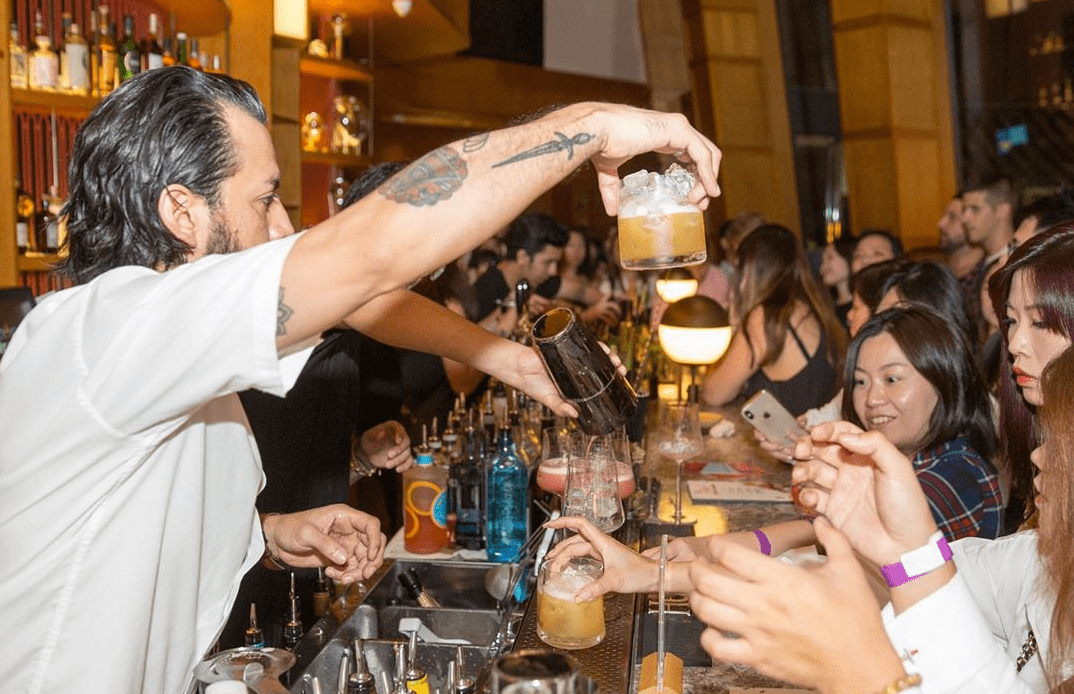 Special note: During March, from 3pm to 9pm daily, you can enjoy a two-hour unlimited drink discount within a specified time at only HK$150, including selected wine, beer, spirits and rose wine. Moreover, you can also order specialty dishes, such as truffle fries with truffle sauce, cheese and dried ham platter, etc., to spend happy hours with your girlfriends.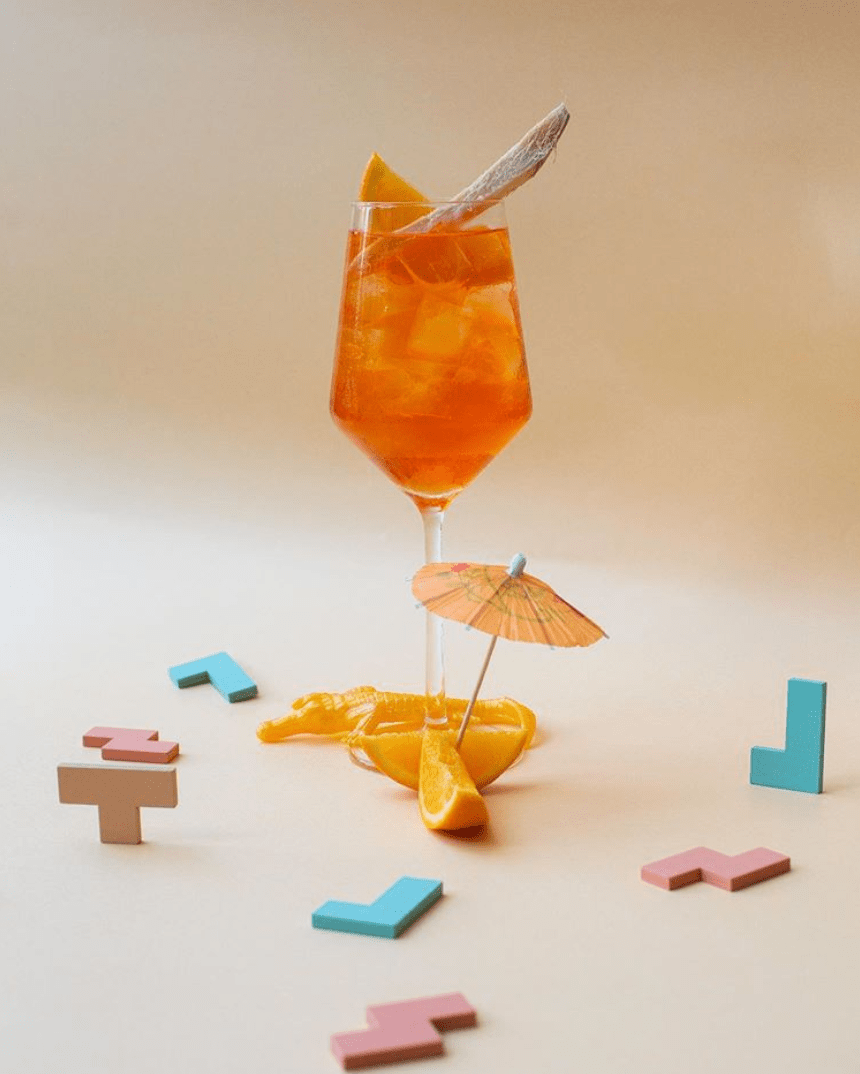 Add: Terrible Baby
4/F, Eaton HK, 380 Nathan Road, Kowloon
Tel: 2710 1866
Official website
3. Cruise – Only sky bar in North Point
Recommended Bars in Island East
By taking Hong Kong's busy cruise port as its design theme, Cruise gives you a unique experience of the Victoria Harbour view.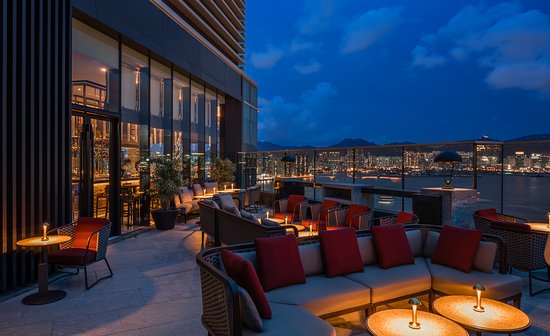 The interior is comfortable and elegant, with soft lighting and unique décor. A variety of cocktails and wines are served at the bar, and the specialty menu is designed by a team of professional chefs. Cuisine from Hong Kong, Japan, South Korea, Singapore, Thailand, Vietnam and other countries are all available.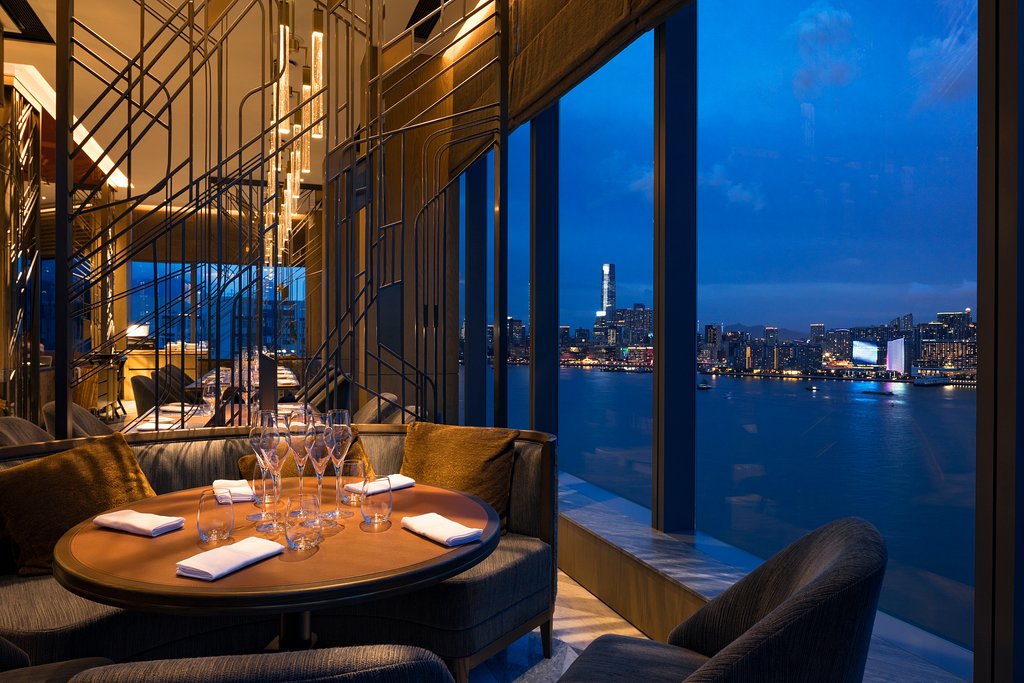 A variety of cigars are also available to relax you and your friends while overlooking the endless views of Hong Kong and Kowloon!
Add: Cruise
23/F Hyatt Centric Victoria Harbour Hong Kong, North Point Estate Lane, North Point
Tel: 3896 9898
Official website
4. Ozone – Highest bar in the world
High-altitude views on 118/F
The ICC in West Kowloon is the highest building in Hong Kong. Ozone on the top floor is the highest bar in the world. Stepping onto the 118th floor, you are greeted with a gorgeous world of psychedelic colors.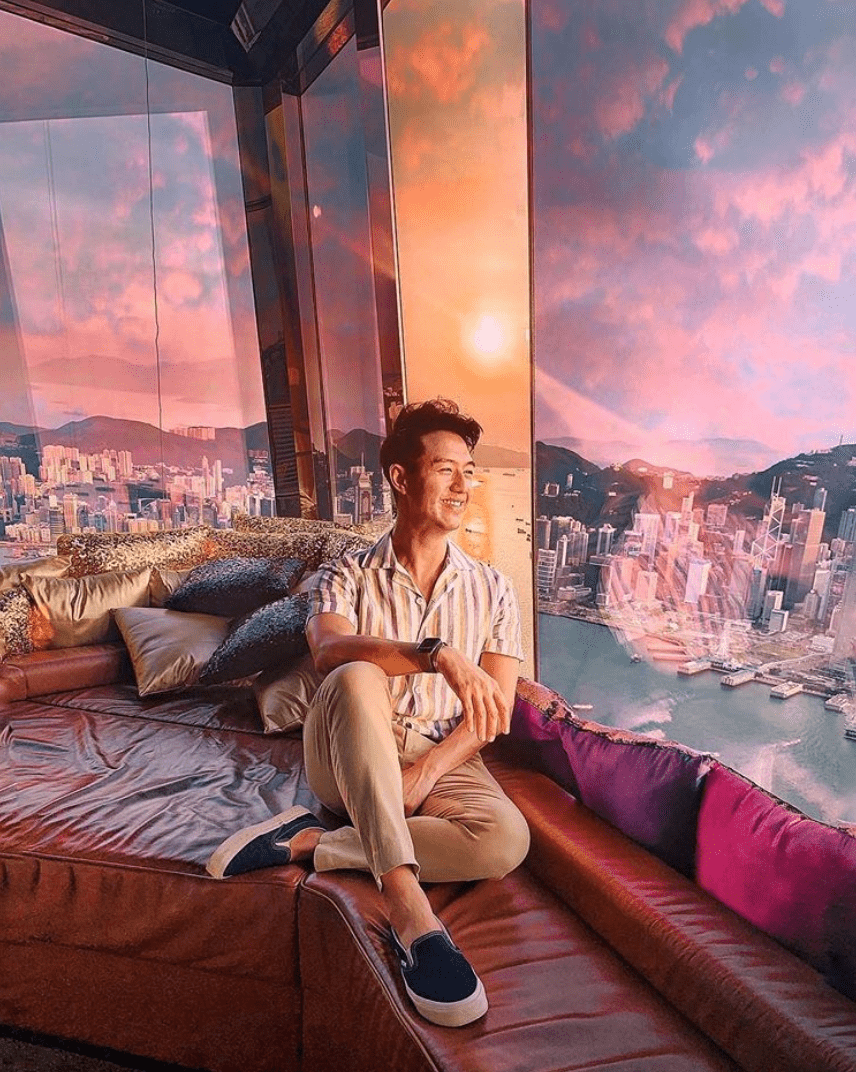 With gorgeous decoration, Ozone has unique ceiling ornaments echoing with floor patterns. The most eye-catching is the combination of avatar color tone and fashionable avant-garde design, full of modernity.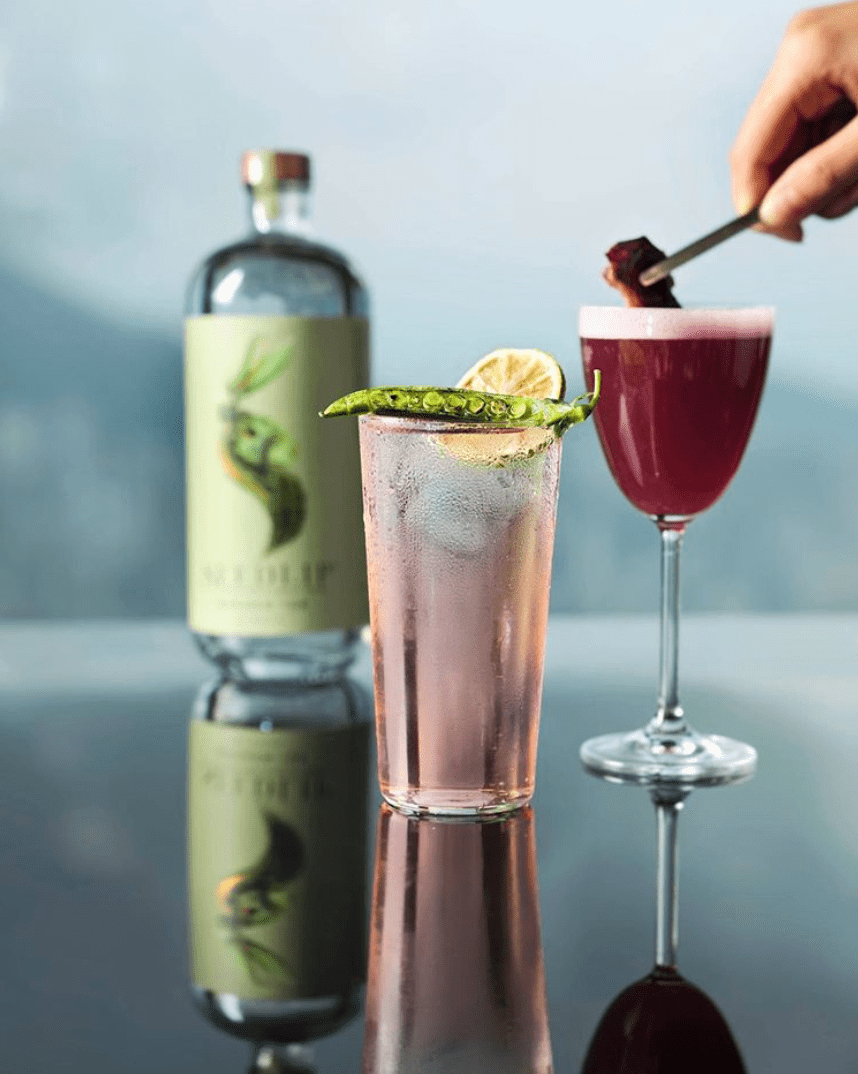 Experience Hong Kong nightlife in the air, taste special cocktails, and enjoy DJs music performances. Come and experience the beauty of the sky this week.
Ozone
Level 118, International Commerce Centre, 1 Austin Road West, Hong Kong
Official website
5. Wooloomooloo – A gem hidden in Wan Chai
Scenic bar with great wine and good steak
Wooloomooloo, located in Wan Chai, is a high-end restaurant specializing in high-quality steaks from Australia and the United States. The interior of the restaurant is unique. The food is exquisitely arranged, rich in taste, and full of color and fragrance.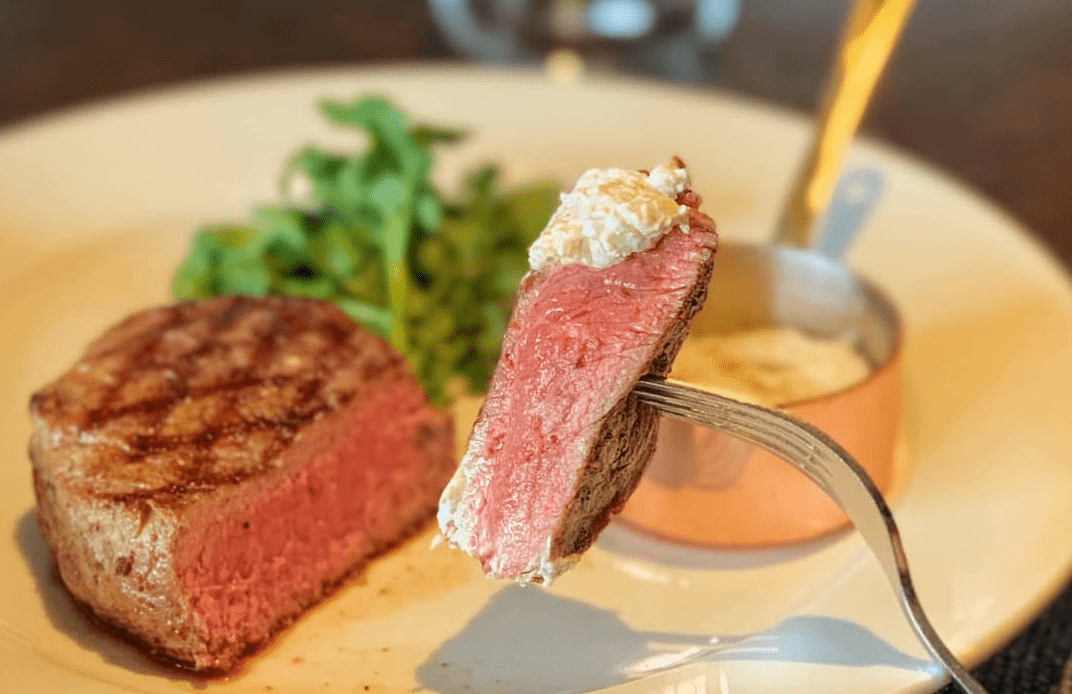 In particular, this 31-floor steak restaurant also has an outdoor open-air bar to satisfy your craving for the night view of the city. Watch the Victoria Harbor and the Happy Valley racecourse.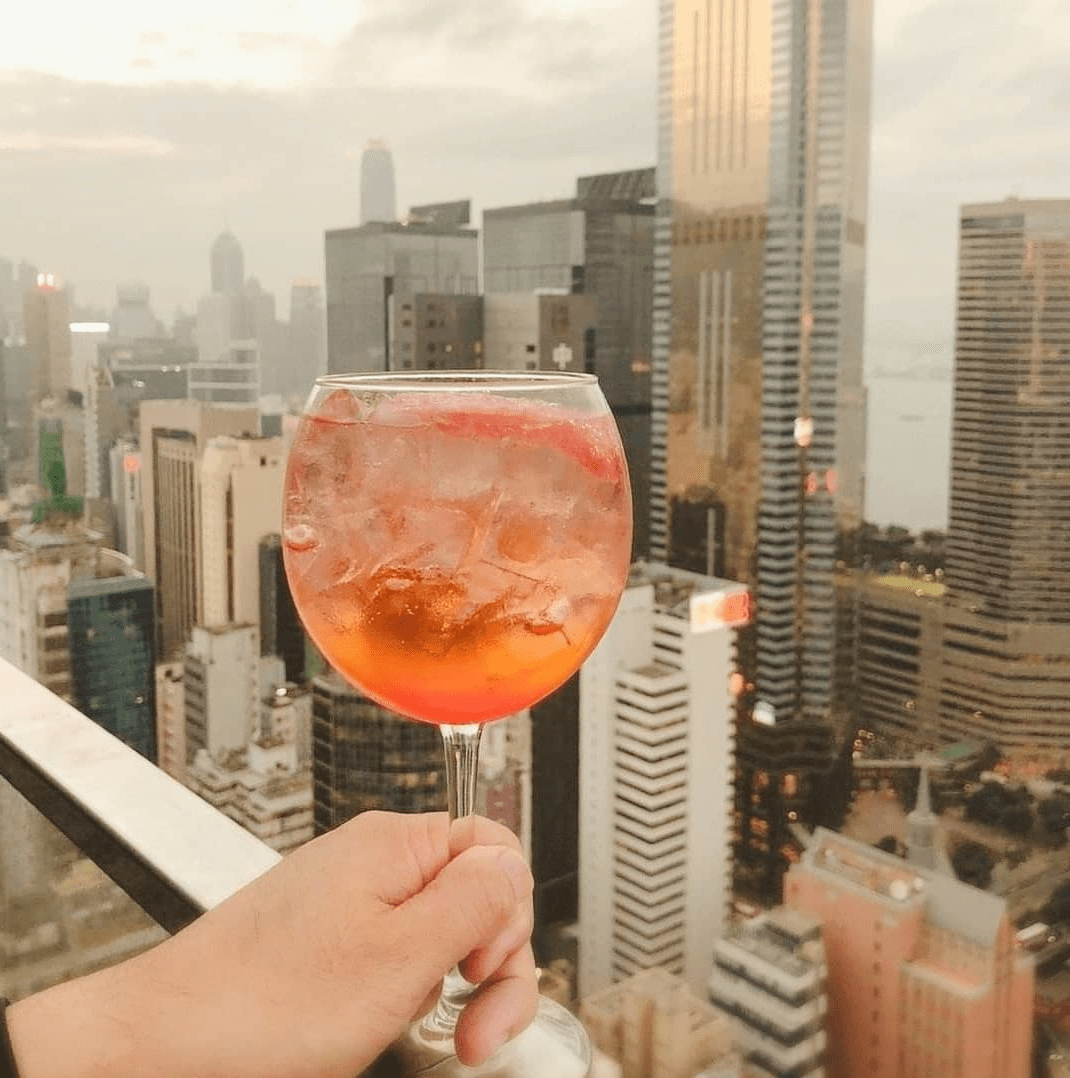 Wooloomooloo 
Wan Chai, 31/F & Rooftop The Hennessy, 256 Hennessy Road, Wan Chai
Tel: 2893 6960
Official website
6. Vibes – everything in fashion beats design
Located in Tsim Sha Tsui, Vibes is one of the bars in Kowloon where you can relax and enjoy cocktails. The surrounding waterways are filled with lotus-shaped flames.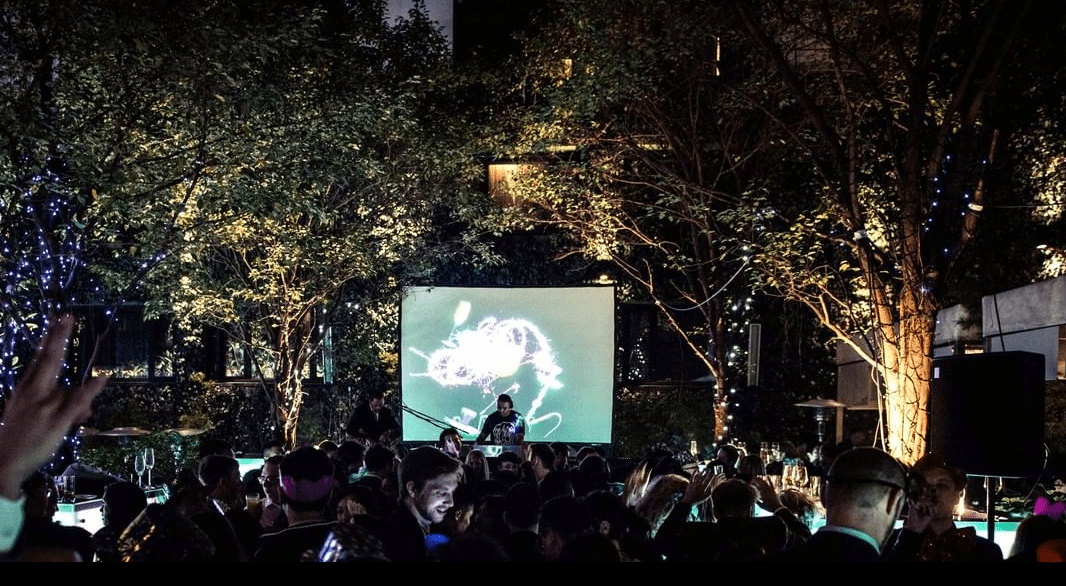 In the private VIP seat, you can enjoy bamboo forests and lush green gardenia trees. Come here to enjoy a cool mojito or a unique selection of exclusive cocktails. Enjoy live music from under the stars from a DJ, share bar snacks with friends, and forget your worries.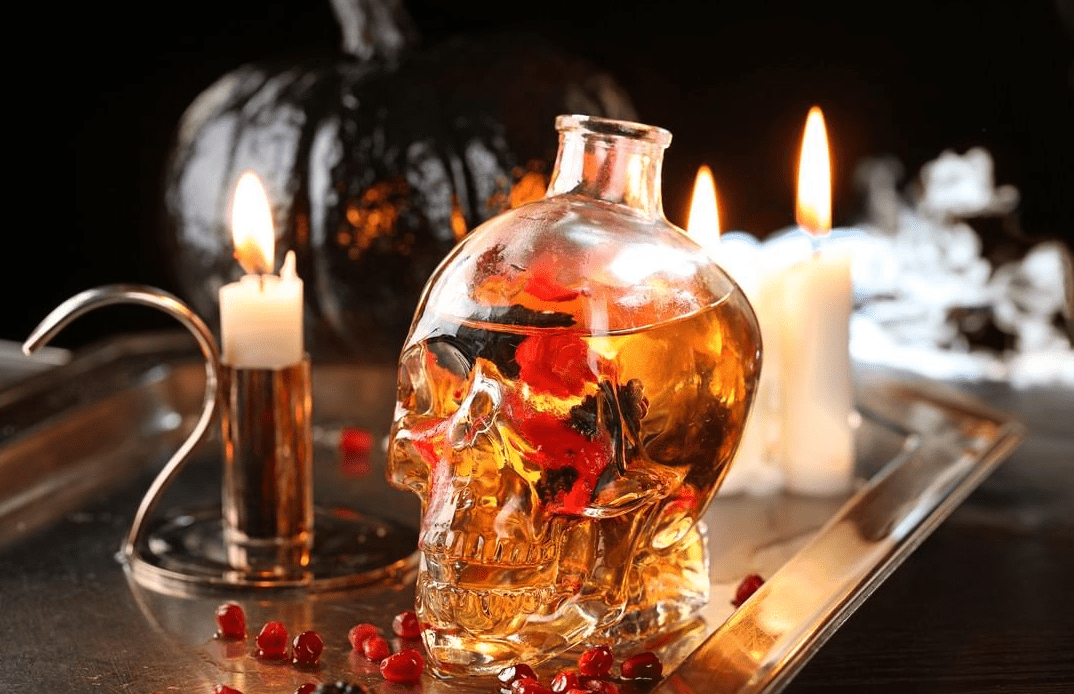 Remember that you can enjoy the happy hour discount all night every Thursday!
Add: Vibes
5/F, The Mira Hong Kong, Mira Place, 118-130 Nathan Road, Tsim Sha Tsui
Tel: 2315 5599
Official website
7. ABOVE by Kömune – Enjoy the beauty of the Southern District
One of the few bars in Wong Chuk Hang
Rooftop bars generally gather in Yau Tsim Mong and Central and Sheung Wan. If you want to have a wider view, Wong Chuk Hang may also be a good choice for you. ABOVE by Kömune is a popular rooftop bar in the Aohua South Bank Hotel. It is located on the 23rd floor, here you can enjoy an unobstructed view of Ocean Park. It is one of the best places for watching the sunset.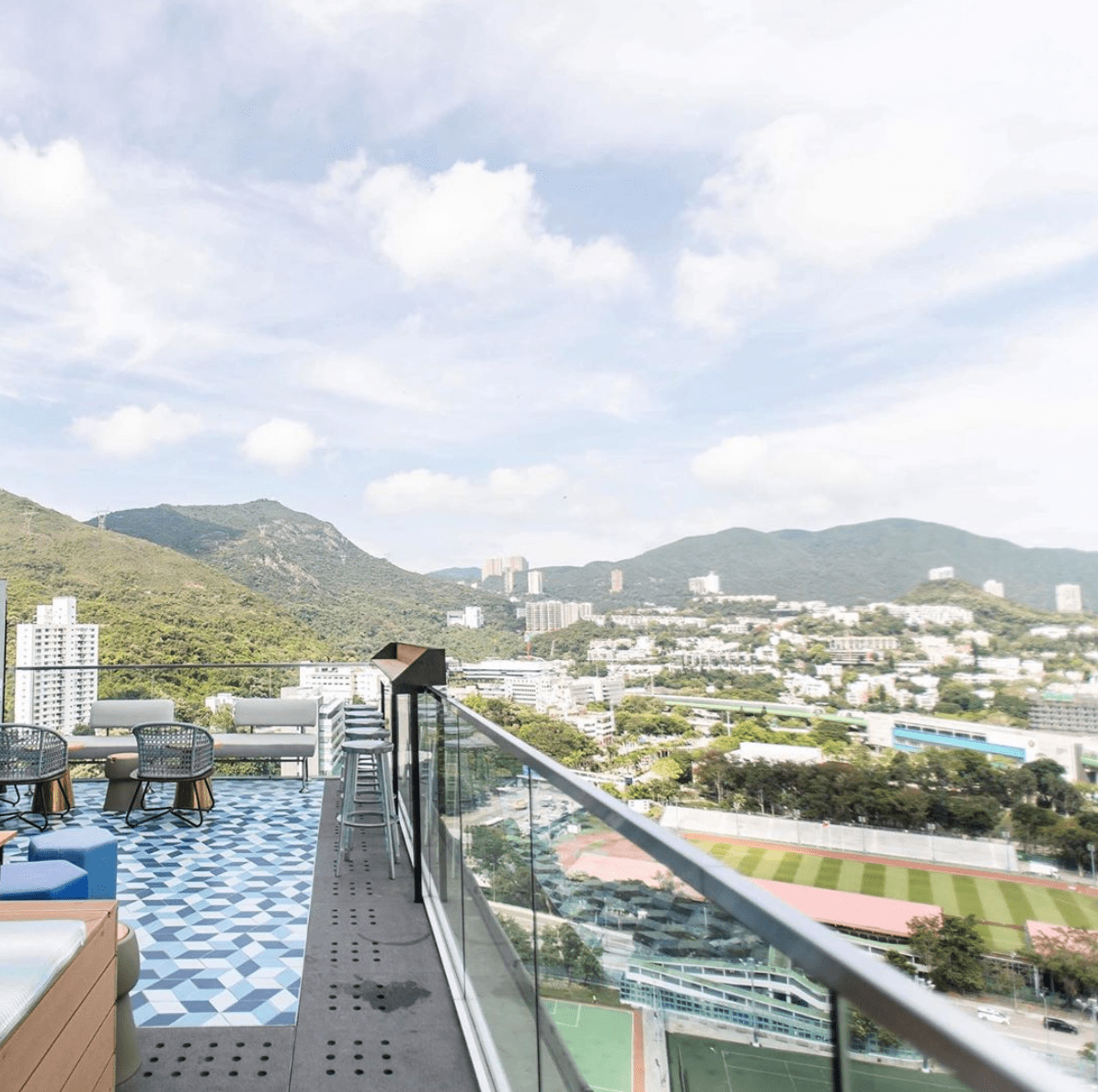 The bar is well-lit and the wine list price is HK$110-130 a cup. There are many Hong Kong specialty cocktails, like the homemade Dirty Uncle, with Corona beer and Tequilla syrup as the base, with celery juice and pomegranate juice, smeared with smoked salt on the side of the cup, the taste is fresh and layered.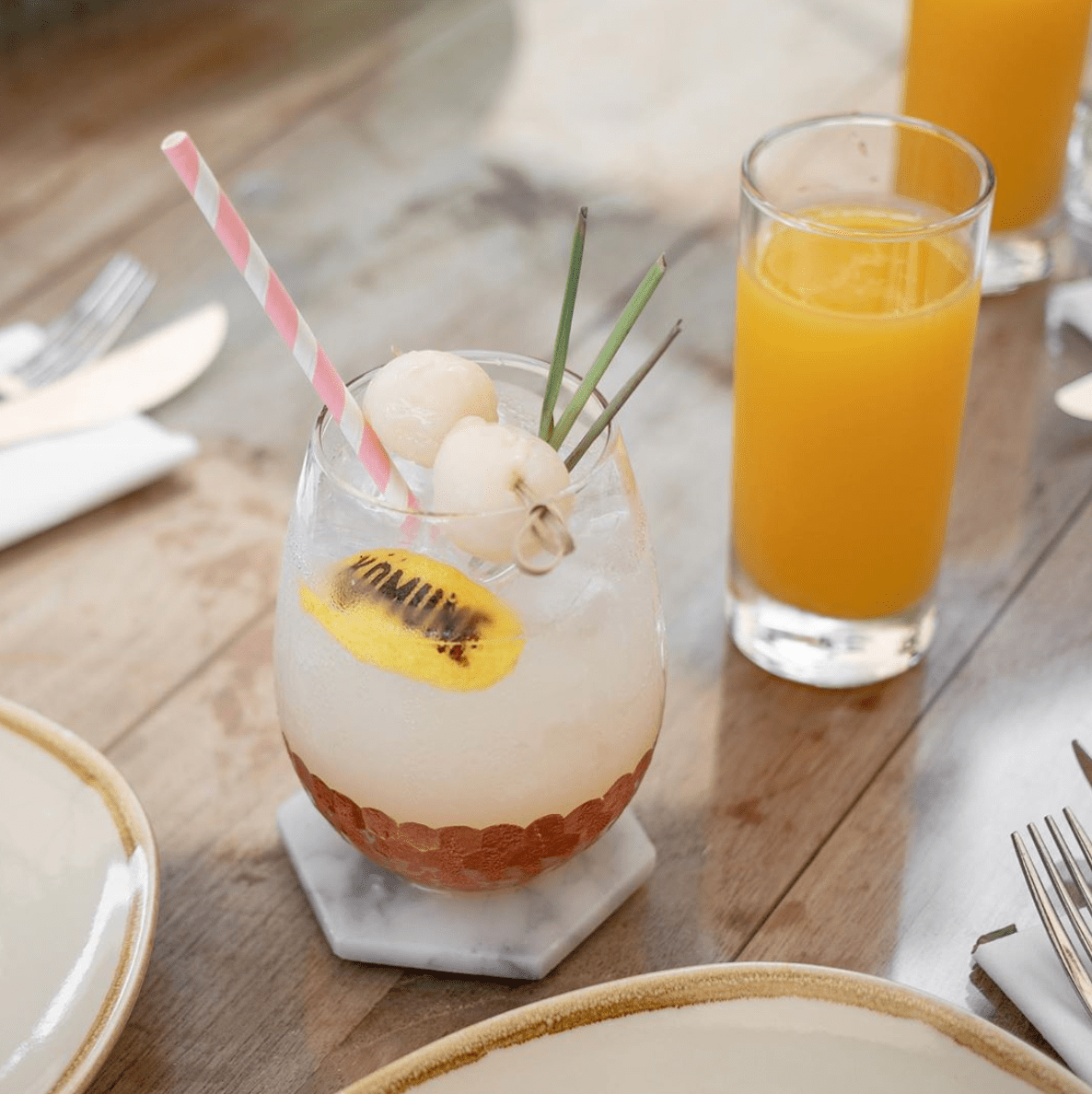 ABOVE by Kömune
Ovolo Southside, 64 Wong Chuk Hang Road, Wong Chuk Hang
3460 8157 
Official website
8. Fu Lu Shou – Nostalgic and fun rooftop bar
Chinese and Western artistic open-air bar
No matter the decoration or food, Fu Lu Shou has made great efforts to mix western Chinese culture. The most eye-catching is the Fu Lu Shou mural on the rooftop water tank, which draws the god of Chinese mythology in the style of Western painting. The bar counter is piled with sparrows, and there are even sparrow-shaped cushions on the sofa.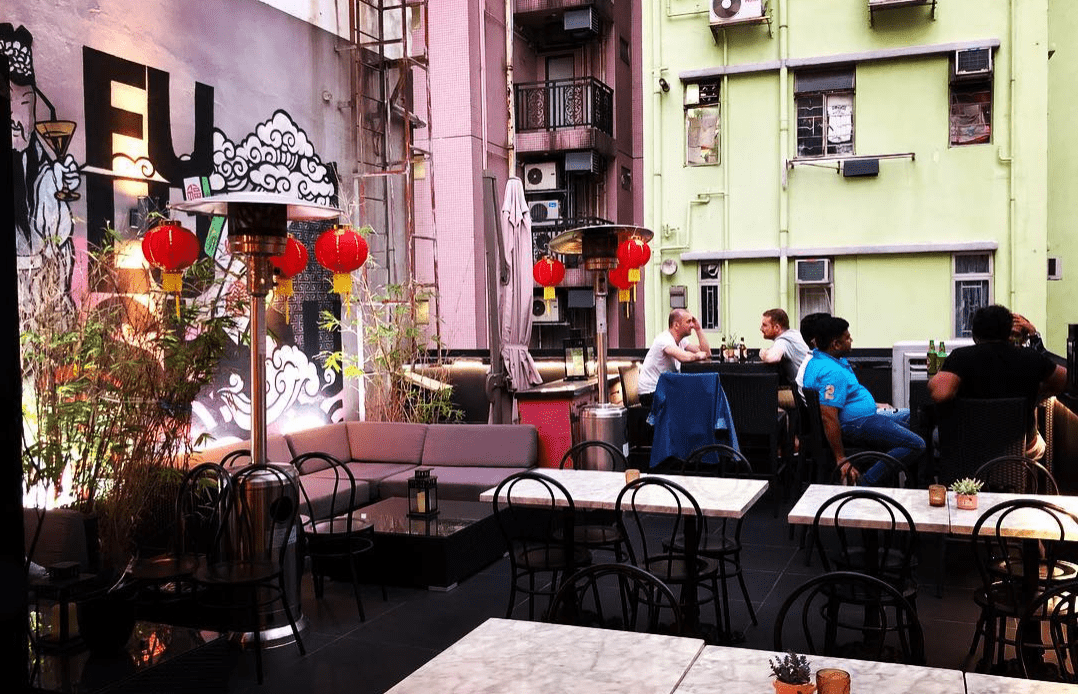 The dishes show the characteristics of foreign Chinatown, including dim sum, sweet and sour pork, etc., while the liquor has many specialty cocktails, and the name is also very creative. What's more interesting is that the tableware has a Chinese style, including living forever cup, gold copper cup, and tea cup with flavor!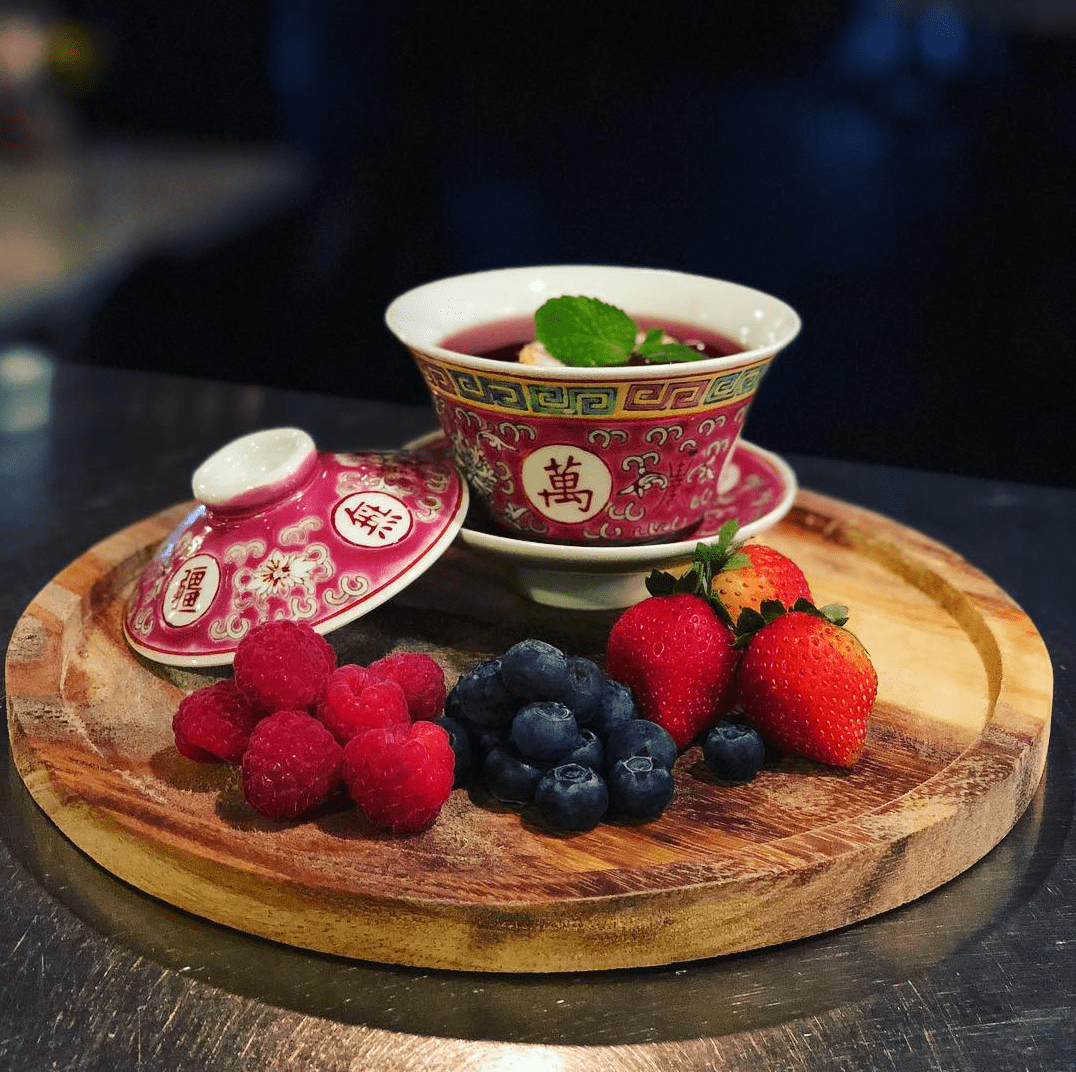 Fu Lu Shou
L7, 31 Hollywood Road, Central, Hong Kong
Tel: 2336 8812 
Official website
9. Piqniq – Moroccan rooftop bar
Exotic bar in the corner of Central
As a newly opened tavern in Hong Kong, PIQNIQ is located on the top floor of H Queen's, an art and cultural hotspot in the city, with a Moroccan style as the design theme. Although its space is not spacious, PIQNIQ has a unique exotic style.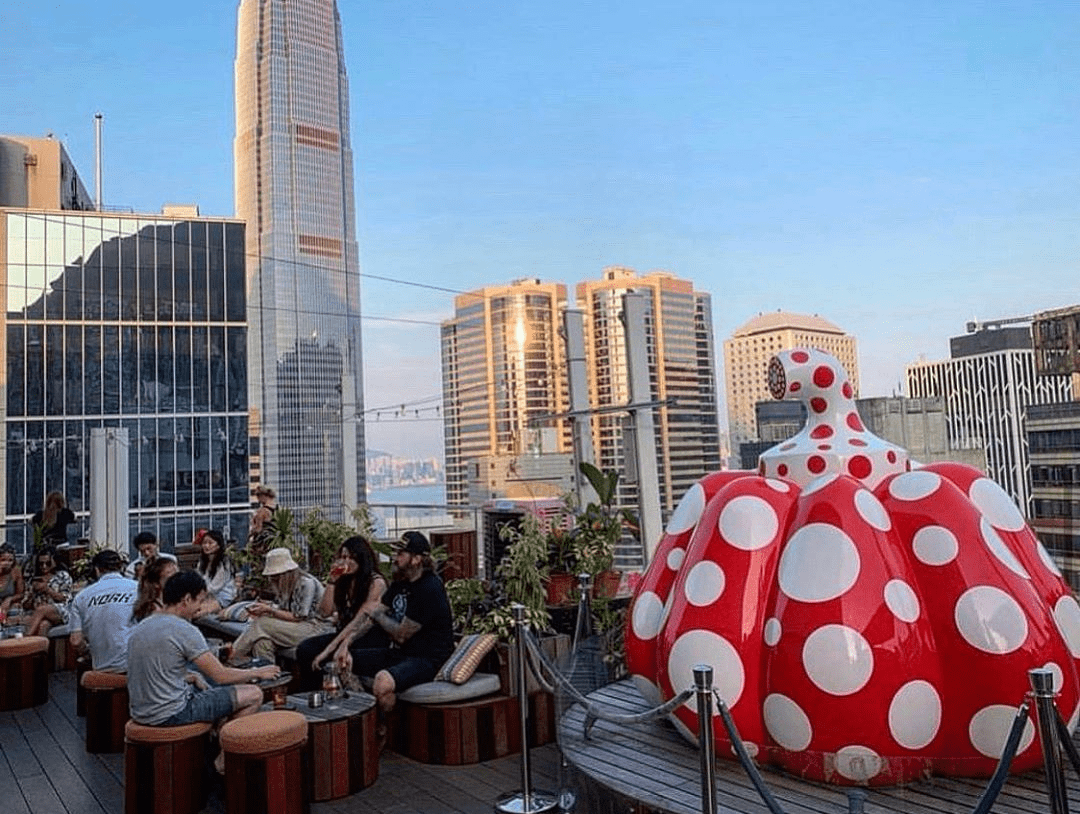 In particular, the tableware arrangement has a wonderful outdoor picnic feeling, and it is worth recommending the Wagyu Sandwich, suitable for drinking to your heart's content and relieving stress with your friends.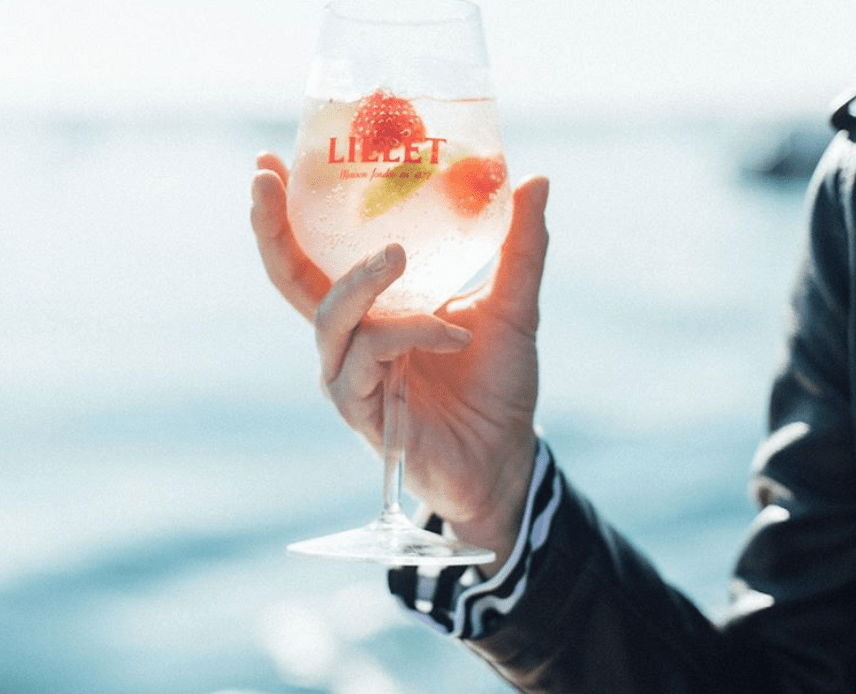 Piqniq
R/F, H Queen's, 80 Queen's Road, Central, Hong Kong
Tel: 5200 1683 
Official website
10. Sevva – Afternoon tea for ladies in Central
Rooftop bar that allows you to be wilful and luxurious
Sevva is located on the 25th floor of the Prince's Building. The name of the restaurant is derived from Sanskrit "Seva", meaning selfless dedication. Sevva is not only a stylish restaurant and bar that, exudes a warm, comfortable and truly luxurious lifestyle.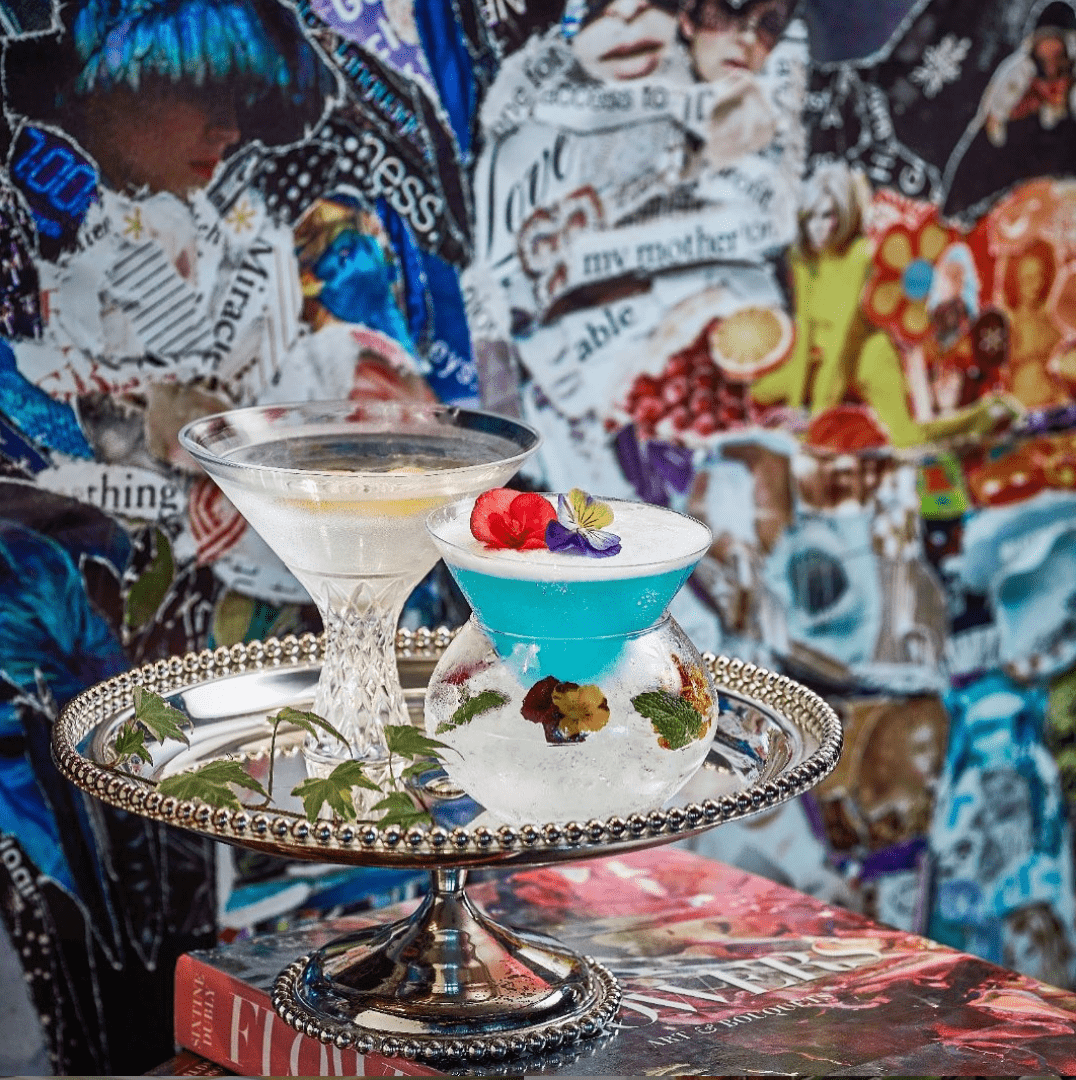 In addition to enjoying the 360-degree invincible view of Hong Kong and the sunset of Victoria Harbour, the bar also has multiple areas including Taste Bar, Lounge, dining area and an open-air bar for cocktails. Celebrities and artists in the city also meet here from time to time, it is worth a visit!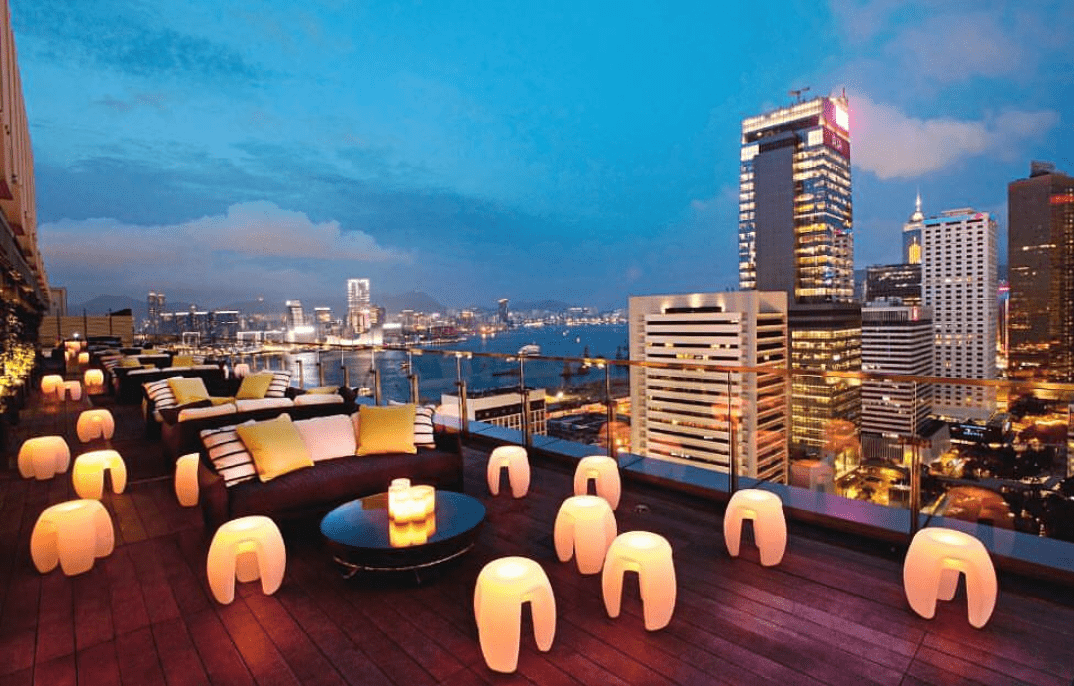 Sevva
25/F, Prince's Building, 10 Chater Road, Central
2537 1388
Official website
11. Duddell's – A paradise with Chinese and Western elements
Taste Chinese cuisine on a modern rooftop garden
Duddell's, which specializes in Chinese cuisine, is located in the heart of Central. It is a must-go for foodies who love Chinese food and wine. Designed by the famous designer Ilse Crawford, the design of Duddell's is modern but not tacky, and full of paintings and crafts. It is divided into an indoor dining section, and a bar and outdoor rooftop garden.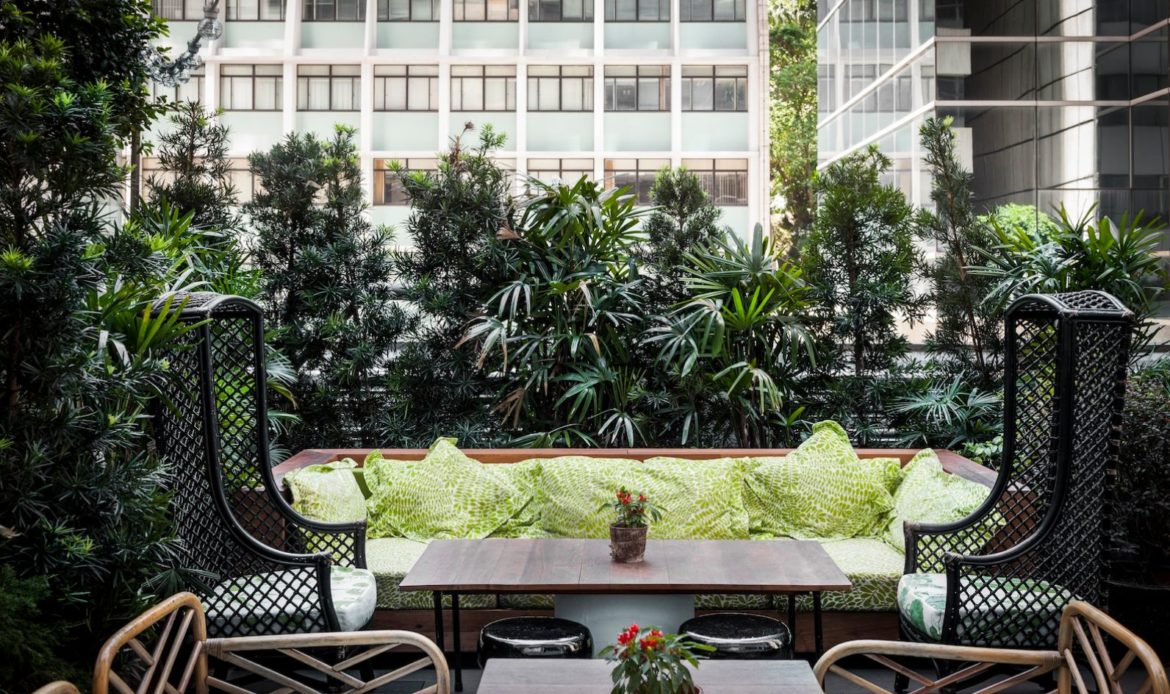 The restaurant's menu has been carefully designed, whether it's a snack or a cocktail, it's like a work of art. For example the shrimp dumpling is made with cubilose, crab meat, milk protein, etc. in a crystal dumpling wrapper. The cocktails are also inspirational with a unique taste and look that utilizes Asian ingredients.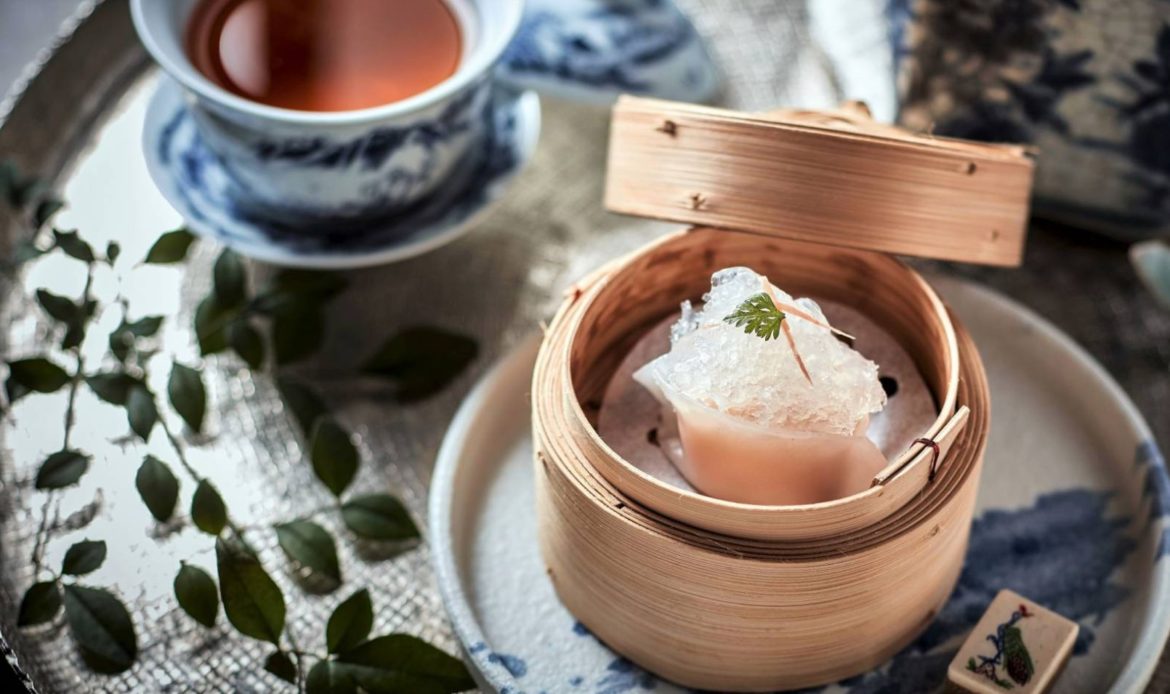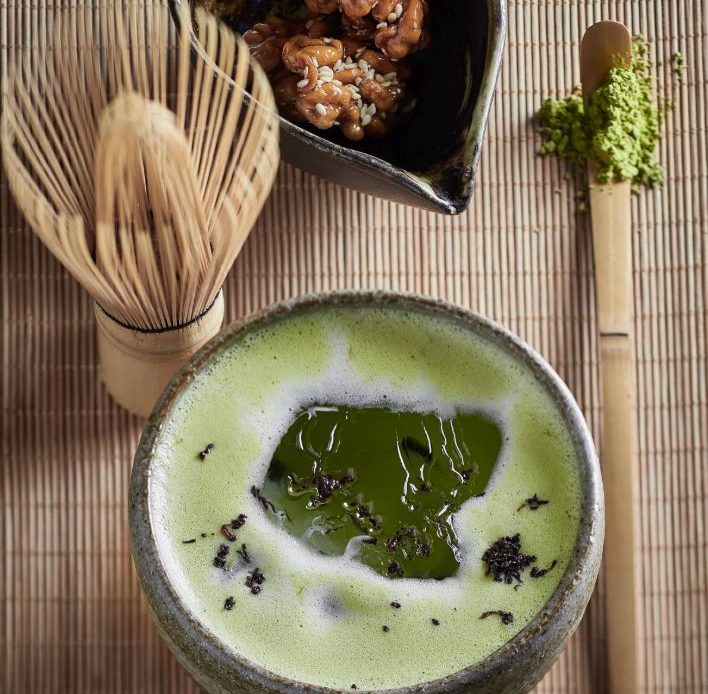 Duddell's
3 - 4/F, Shanghai Tang, Duddell Street, Central
2525 9191
Official website
12. VEA – Led by local chef
Innovative traditional taste
A local chef in Hong Kong takes on the role of head chef. He blends Hong Kong's local flavor into Western cooking skills to create a new dish, which is a rare restaurant type in Hong Kong. VEA, which has received one Michelin star, also has an excellent Cocktail lounge, with a small number of outdoor positions overlooking the surrounding views of Central.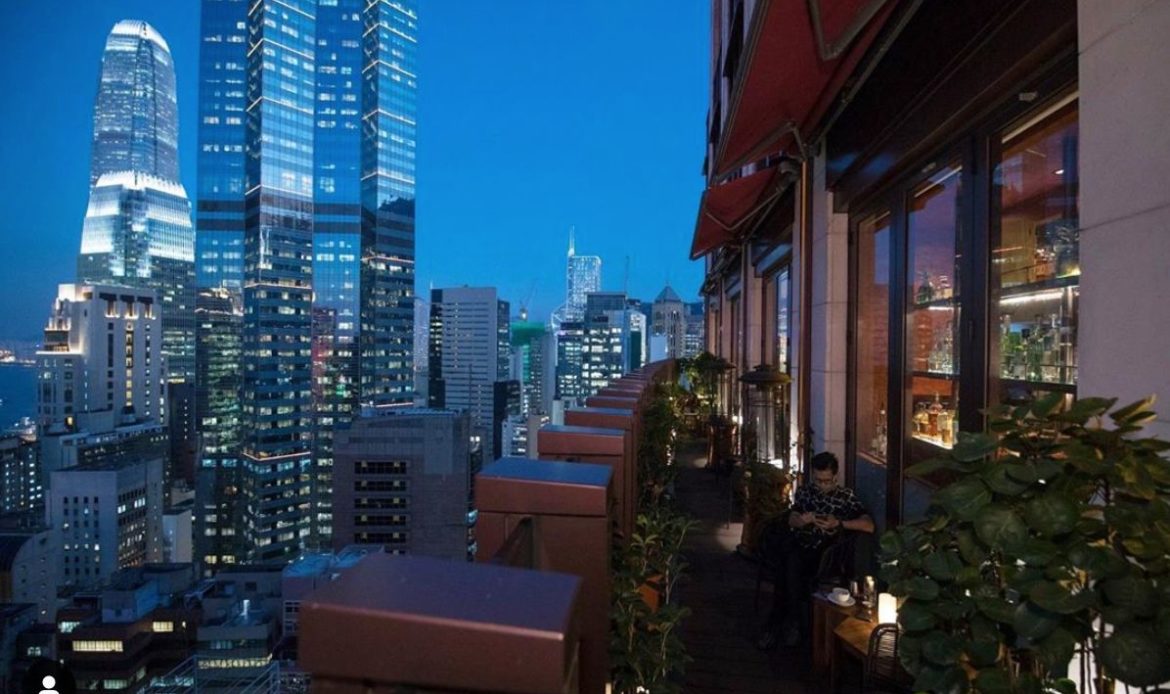 With traditional cocktails as the base, a unique mix of innovation is fused into the cocktails to create a flavour that will never disappoint you.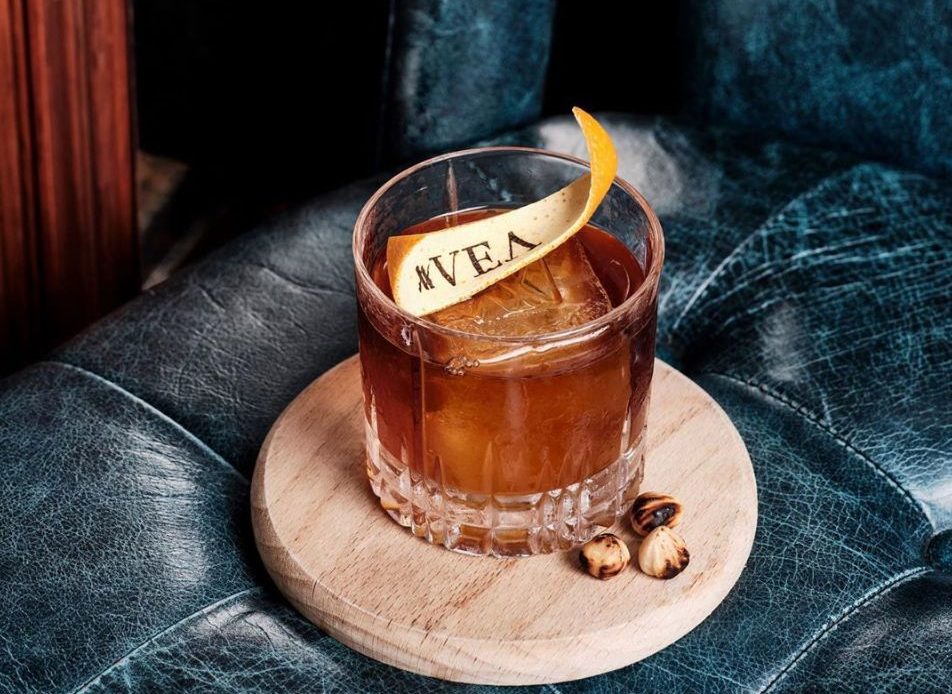 VEA
29-30 /F, The Wellington, No. 198, Wellington Street, Central
2711 8639
Official website