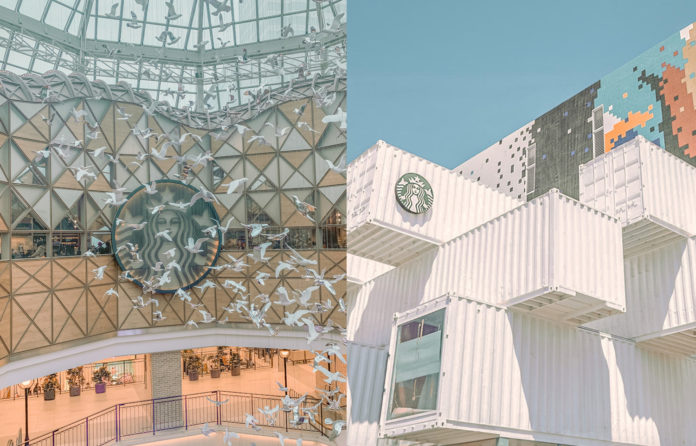 There are Starbucks stores all over the world, from the architecture to the interiors, are designed to match the local environment, history and culture, making them a great alternative travel destination. YAS has selected 4 of the most beautiful and Ig-able Starbucks stores in Asia, so make sure to bookmark them!
#1 Tokyo, Japan|Kawagoe Kanetsuki Dori Store
Drinking Starbucks through the Edo Period
Kawagoe, Japan, has long been known as 'Koedo' and is a must-visit suburb for many visitors to Tokyo, and the Starbucks branch on Kawagoe Tokiji Lane opened in March 2018. This Starbucks store also has a small garden where you can relax with a cup of coffee and feel full of Japanese charm.
Information:
Starbucks Coffee (Kawagoe Kanetsuki Street)
スターバックスコーヒー 川越鐘つき通り店
Address: 15-18 Saiwaicho, Kawagoe, Saitama prefecture 350-0063
Opening times:Monday to Sunday 8am -8pm
---
#2 Taiwan Hualien|Migrand Gate City
Asia's First Container House Starbucks
Hualien Container House Migration is not only the largest container house store in the world but also the first container Starbucks in Asia. The store uses pure white containers as the building material and colorful mosaic decorations on the walls, and the outside of the store also has an Amis aboriginal style, it is definitely a major attraction in Hualien
Information:
Hualienbay Starbucks
Address:No. 505, Section 1, Nanbin Road, Ji'an Township, Hualien County, Taiwan 973
Opening hours:Sunday to Thursday:09:00-21:00;Friday, Saturday:09:00-22:00
---
#3 Chiang Mai, Thailand |Kad Farang Village
Thai Palace Style Starbucks
Chiang Mai, Thailand has a plethora of cafes and coffee shops, and one of them to visit is the Kad Farang Starbucks branch in Kad Farang Village! With its white arched fronts, overlapping roofs and intricate carvings, this Starbucks resembles a Thai temple, but the interior is designed in Lanna style. The gold carvings inside the Starbucks store are reminiscent of a Lanna palace, with a Thai style.
Information:
Starbucks Kad Farang
Address:Tambon Ban Waen, Amphoe Hang Dong, Chang Wat Chiang Mai, Thailand
Opening hours:Monday to Saturday:07:00-20:00(Close on Sunday)
---
#4 Seoul, Korea | Famille Park
Glass Pyramid Stunning Starbucks
Known as "Korea's most beautiful Starbucks," it is located in Famille Park in Seoul. It marks the 15th anniversary of Starbucks' entry into Korea in 2014. This Starbucks store has a forest theme, and the translucent glass roof is filled with white birds flying around, making you feel like you're in the countryside.
Information:
Seoul Famille Park
Address:205, Sapyeong-daero, Seocho-gu Central City Famille Park Dome, Seoul 06545 South Korea (Banpo-dong)
Opening hours:Monday to Sunday:06:30-23:00
Latest Articles