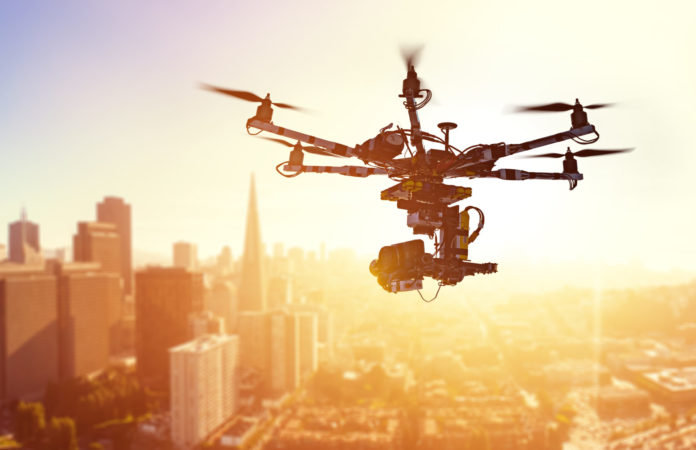 With the advancement of technology, there are many brands of aerial cameras with different types and prices for amateurs and learners in the market. Aerial photography is no longer exclusive to professional aerial photographers. Many people want to bring drones while travelling overseas. As a matter of fact, there are many ideal spots for taking photos in Hong Kong. You may practice using your drones in Hong Kong first before travelling abroad.
Regulations for drones operation in Hong Kong
According to the Guidelines for Flying Unmanned Aircraft Systems (UAS) of the Civil Aviation Department, the following guidelines shall be followed when flying aerial cameras in Hong Kong:
The site shall be flat enough to enable safe take-off and landing at all times
The operator shall maintain direct visual contact with the UAS during the period of the flight
UAS shall not be flown in the vicinity of an airport and aircraft approach and take-off paths. These areas include:

Hong Kong International Airport;
North Lantau coastal area;
Coastal areas from Tai Lam Chung to Tsuen Wan and Tsing Yi Island;
Victoria Harbour and its coastal areas; and
Shek Kong area

The site shall be clear of persons, vessels, vehicles or structures. UAS shall be flown away from helicopter landing pads. UAS shall not be flown over, or close to, any object, installation or facility that would present a risk to safety in the event of damage due to any impact by the UAS, or in such a manner that the good order and discipline and control thereof may be or may likely be jeopardised.
Safety tips for operating UAS
Types of UAS: Shall not weigh more than 7 kg (without its fuel)
Daylight hours only
Altitude of operations: Shall not be flown over 300 feet above ground level
Recklessly or negligently causing or permitting the UAS to endanger any person or property is liable to prosecution
Other legislations in Hong Kong such as Personal Data (Privacy) Ordinance (Disclosure of Others' Personal Data), Country Parks Ordinance (Operation of Unmanned Aircraft Systems) and Mass Transit Railway By-laws (Photography) should be complied with
1. Nam Sang Wai, Yuen Long
Many photography lovers would think of Nam Sang Wai. It has few buildings and is flat enough with beautiful scenery. Shan Pui River runs along the meadow in Nam Sang Wai and people can have a bird's eye view over the industrial estate on the other side of the river. Aerial photography lovers are advised to fly the drones on weekdays as there are fewer people compared with the weekends and it is quieter and more suitable for flying drones. It is noteworthy that there are big trees on the meadow and drones should stay away from them when taking off and landing to avoid crashes.
Information on aerial photograph at Nam Sang Wai, Yuen Long:
Traffic: Take bus No. 76K or minibuses No. 36, 37, 38, 75 and 76 at the Sun Yuen Long Centre bus station on Long Yat Road to the opposite of Exit G2 of MTR Yuen Long Station and get off at Hung Mo Kiu. Then walk along Nam Sang Wai Road or take minibus No. 611 to Shan Pui Village and walk to the cable ferry to the meadow. The simplest way is to take taxi to Nam Sang Wai.
2. Kam Shan Country Park
Known as "Monkey Hill", Kam Shan Country Park is an ideal place for flying drones as it enjoys convenient traffic. It is easy to get there by bus or walk to the flying area. Aerial photographers generally choose Kowloon Reservoir and Shek Lei Pui Reservoir, namely the dams on the Kam Shan Road to fly drones. Kam Shan Road is surrounded by waters on both sides with beautiful scenery. When the water level in Kowloon Reservoir is lower, they offer a different view. Travelers are advised to pay attention to two things. Firstly, there are monkeys in Kam Shan Country Park so take care of your devices. Camera tripods of some photographers are often taken away by monkeys so please be cautious. Secondly, pay attention to the flying distance of drones. They are very likely to fly into the reservoir when accidents happen and they are unlikely to be recovered in such circumstances.
Information on aerial photograph in Kam Shan Country Park:
Traffic: Take bus No. 72 at MTR Cheung Sha Wan Station, get off at Shek Lei Pui Reservoir and then you have to walk to Kam Shan Road.
3. Shing Mun Reservoir Dams
Compared with other spots, there are more aerial photographers at Shing Mun Reservoir and some people bring their remote control helicopters. It is a place for new learners to practice flying. The spot is relatively small with many people during weekdays. But there is a slope meadow with fewer trees. Drones can be easily recovered even after accidents happened. It should be noted that since there are many people also operating remote control vehichles, be careful whilst flying your drone to avoid any accidents or crashes.
Information on aerial photograph on Shing Mun Reservoir Dams:
Traffic: Take minibus No. 64K at Tsuen Nam Road at Exit D of MTR Tai Wai Station to Fu Shan Bus Terminus and then walk to the hill. You may also take taxi at Tai Wai Station along Shing Mun Road to the dams of the reservoir.
4. Tai Au Mun, Sai Kung
Many Hongkongers flied kites and played remote control planes with their parents at Tai Au Mun during their childhood. Nowadays, aerial photography is becoming increasingly popular and there are always aerial drones at Tai Au Mun. Tai Au Mun has a large natural meadow and enjoys a bird's eye view over the whole Clearwater Bay at height. Experienced aerial photographers even fly drones to the second beach of Clearwater Bay to catch the spectacular scenery. As many people fly kites at Tai Au Mun, aerial photographers are advised to pay attention to the surrounding conditions to avoid accidents.
Information on aerial photograph at Tai Au Mun, Sai Kung
Traffic: Take bus 91 and pass Diamond Hill and Choi Hung, you will arrive at Tai Au Mun. You may take minibus 16 at Po Lam or take minibus 103M at Tseung Kwan O. Get off at Tai Au Mun and you have to walk for 5 to 10 minutes to the meadow.
5. Tap Mun
Compared with the above places, Tap Mun is the most distant place and you have to get there by ship. With a large natural meadow and a view of the endless sea, Tap Mun has wonderful scenery with a cliff at the end of the meadow. You may fly your drone to the sea to take photos of different islands and the endless sea horizon. If you love the sea, Tap Mun is an ideal place for you. It is noteworthy that there are cattle at Tap Mun so please take care of your belongings. Do not feed the cattle and refrain from harming the ecosystem.
Information on aerial photograph at Tap Mun:
Traffic: Take taxi at Exit B of MTR University Station to Ma Liu Shui Ferry Pier and transfer to ferry for about 1.5 hours. Or you can take bus 94 at Sai Kung Town Centre and transfer to ferry for about 35 minutes.