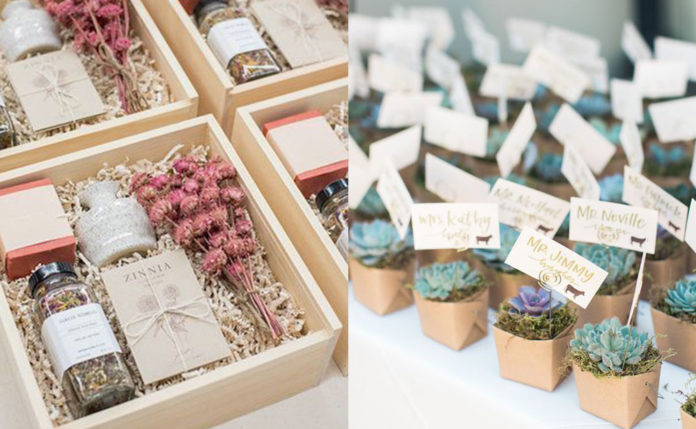 Besides banquets and the wedding ceremony, the newly-wed should provide suitable return gifts to their guests. Return gifts do not need to be super expensive or extravagant. Below is a list of recommended return gifts for your wedding event!
—
▶▶ [Preparation for wedding ceremony] Wedding ceremony planning and picking wedding dress | For newly-wed! 10 IG for inspiration on wedding ceremony
—
Return gift 01 | Handmade soap
More and more newly-weds choose handmade soaps as return gifts as they are light and each one has their own characteristics. Handmade soaps with natural materials are good the skin, and the shape can be determined by the newly wed. They are suitable for all and are excellent return gifts.
Return gift 02 | Scented candle
As an emerging return gift in recent years, small scented candles are suitable for all and the flavor can be selected by the newly-wed. Aroma stones may also serve as return gifts.
Scented candle shop recommended: @arooma.hongkong
Return gift 03 | Scented tea
With relatively low cost, scented tea has been a return gift favored by the newly-wed in recent years. Scented tea can be sent together with candies and dried fruit. They have beautiful designs with a distinctive taste and scent.
Scented tea shop recommended: @hebeteahk
Return gift 04 | Perfume
Perfume is a new return gift with high costs. The flavor of each perfume is selected by the newly-wed. This is a great way to express your gratitude to your guests!
Perfume shop recommended: @wildmint.hk
Return gift 05 | Small potted plant
Small potted plants are relatively expensive and each cost about HK$50. Guests can plant them and turn it into a decoration at home.
Return gift 06 | Handmade cookies and candies
They are the most common return gifts. Printing the newly-wed's names and marriage date is enough. They are cheap and suitable for newly-weds with small budgets.
Handmade cookies shop recommended: @dearestcookies
Budgets on small return gifts
Return gifts are gifts from the newly-wed to guests. Those with high prices will result in high budgets. It is better to control the budget on return gifts at HK$20-50 for each guest depending on the number of guests. They should be decent but not too expensive as they just represent your gratitude. Of course, newly-weds with high budgets can send more expensive gifts and impress their guests.